Personal Data
We do not collect any personal data when you use our website. We only know the name of your internet provider an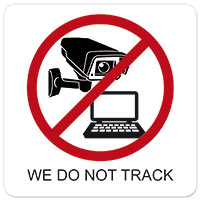 d which of our web pages you visit. This information is evaluated for statistical purposes. You remain anonymous as an individual user.

We only collect personal data when you give these to us voluntarily in line with an ordering process, when opening a customer account, when contacting us using the contact form or when you register for our newsletter. We use the data collected exclusively for processing the contract. After completing the contract, your data will be blocked and deleted in line with the relevant regulations unless you have expressly agreed with further use of your data. If you subscribe to our newsletter with your email address, we use your email address for our own promotional purposes until you unsubscribe from our newsletter.
You can request to know what personal data we hold about you at any time and free of charge.

Intended Use
The data provided to us are used by us to respond to any requests made by you, to process your orders and to provide you with access to various information or offers. Your provided data are saved and processed to maintain your customer account.
The personal data collected by us are used only for purposes known to you, except where we are required by legal regulations to collect, process or use them.

The personal data collected by us is used only for purposes which are known to you, except where we are required by legal regulations regarding the collection, processing or use.

Cookies
Cookies are pieces of information which are automatically stored onto your computer. When you visit our website (www.industrial-needs.com), information is stored on your computer in the form of cookies. You can prevent cookies from being saved to your hard drive by choosing not to accept cookies in your browser settings. However, this may cause functional limitations of our offers.
Google Maps
This website uses the map service Google Maps via an API. Google Maps is provided by Google Ireland Ltd., Gordon House, Barrow Street, Dublin 4, Ireland. To be able to use the functions of Google Maps, it is necessary to save your IP address. These information are normally transferred to a Google server in the USA where they are saved. The provider of this website cannot influence this data transfer.
More information on how user data are used can be found in Google's privacy statement:
https://policies.google.com/privacy?hl=en-GB
Use of YouTube plugins
To embed videos etc., we use YouTube. YouTube is run by YouTube LLC with headquarters at 901 Cherry Avenue, San Bruno, CA 94066, USA. YouTube is represented by Google Ireland Ltd. with headquarters at Gordon House, Barrow Street, Dublin 4, Ireland.
On some of our web pages, we use YouTube plugins. When you visit web pages of our web presence which have such a plugin, e.g. our media library, a connection to the YouTube servers will be established and the plugin will be displayed. This means that the YouTube server will receive the information which of our web pages you have visited. If you are logged in on YouTube as a member, YouTube will assign this information to your personal user account. When you use the plugin, e.g. by clicking on the start button of a video, this information will also be assigned to your user account. You can avoid this by logging out of your YouTube user account as well as of other user accounts you may have with the companies YouTube LLC and Google Inc. and deleting the cookies related to these companies before use.
Further information on data processing and data protection by YouTube (Google) can be found here:
https://policies.google.com/privacy?hl=en-GB.
Further information
We make every effort to save your personal data in a way that they cannot be accessed by third parties, exhausting all technical and organisational possibilities we have. With regards to email communication, we cannot guarantee complete data security. Therefore, we recommend to send us any confidential information through the post.
Our employees and the service providers working on our behalf are obliged to maintain confidetiality and to stick to national regulations on data protection.
Users' rights
As a person affected by data processing, you have the following rights at no charge:
a) You can revoke your voluntary consent at any time (right of revocation).
b) You can always request an overview of all data about you we have recorded (right of access).
c) You can always request deletion of data which are not subject to any legal or contractual retention requirements without being charged for this (right to erasure).
d) You can always restrict your consent to data processing to certain areas (right to restriction).
e) You can always object to data processing if the data are used to pursue the public interest or legitimate interests of the controller if there are reasons resulting from your particular situation (right to object).
f) In case any of the data about you contain errors, you always have the right to rectification of these data (right to rectification).
g) You have the right to receive your personal data in a structured, common and machine-readable format or have those data transferred to a third party (right to data portability).
Right to appeal
Any person affected by data processing has the right to file a complaint with your local supervisory authority for data protection or with the supervisory authority responsible for the operator of this website.
Person responsible for data processing
PCE Instruments UK Ltd
Suite 2.08, Trafford House
Chester Rd, Manchester M32 0RS

United Kingdom

Phone +44 (0) 161 464902 0
Fax +44 (0) 161 464902 9
e-mail: [email protected]
PCE Americas Inc.
1201 Jupiter Park Drive Suite 8
Jupiter
33458 FL

USA

Phone (561) 320-9162
Fax (561) 320-9176
e-mail: [email protected]

For further contact details, please refer to our Imprint.