Conductivity Testers

At PCE Instruments you will find both standard and waterproof conductivity testers. There are also conductivity testers available for flowing water or pure water (highly recommended for relevant industries) as well as ones with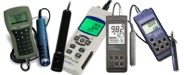 different conductivity measurement ranges. An important factor in our conductivity testers is that they normally measure electric conductivity in µS/cm, however they can also take measurements in mg/l (for direct reading of content in dissolved solid substances). The relation is established as follows: 2 µS/cm = 1ppm (parts per million) = 1 mg/l. Compensated temperature in conductivity testers can be automatic or by hand. If you can't find the conductivity testers you are looking for, please contact us and we will help you find the best solution to suit your needs by calling our offices on:

UK customers +44(0) 23 809 870 30 /

US customers (561) 320-9162 and our technical staff will advise you regarding our measuring instruments. Our engineers and technicians will be happy to help you with the conductivity testers, and of course, with the other products in the field of regulation and control, and scales and balances.
Here you can see conductivity testers from these companies:




Technical specifications for our Conductivity testers can be found at the following links:
- Conductivity testers PCE-CM 41
(Conductivity testers to LF / TDS and temperature; automatic temperature compensation)

- Conductivity testers PCE-SM 11
(Digital conductivity testers to determine the amount of salt aqueous media in %)


- Conductivity Testers Salt 110
(Conductivity Testers with robust cover, ATC, external probe)


- Conductivity testers PCE-PHD1


(Conductivity testers to measure pH value, conductivity, oxygen and temperature)


- Conductivity testers HI9828xx
(Conductivity testers for 13 parameters, intelligent multi-parametric probe, easy data management, GPS available)


- Conductivity testers HI 9033
(Conductivity testers to measure water and dust, very high measuring range)


- Conductivity testers HI 9835
(Conductivity testers, waterproof, TDS, NaCI, conductivity and temperature)
- Conductivity testers HI 993310
(Conductivity testers to measure the conductivity in soil)


- Conductivity testers EC 215
(Conductivity testers with 4-ring technology and high precision)


Information about conductivity: An object's or circuit's ability to conduct an electric current between two points. Electrolytic conductivity of aqueous solutions (water) will depend on the amount of substance concentration in water, the degree of dissociation, valence of positive and negative ions as well as the mobility of these ions influenced by the temperature. Our conductivity testers can detect the real number of ions. Regardin

g plugs, conductivity means the sum to know the number of ions as well as the total amount of salt. On the other hand, conductivity in water does not provide any information regarding the individual substances so to get this information you will need a photometer. In a photometer measurement values are offered in relation to a reference temperature (i.e. 25ºC). To establish this relation almost all the conductivity testers have a internal temperature compensation. With the help of the conductivity testers a result of the total amount of salt in water can be detected.
If you wish to print a selection of conductivity testers from our printed catalogue, click the PDF symbol