Stroboscopes
Stroboscopes are used to measure revolutions, velocity and frequency of rotating components or moving parts. Online you will be able to find stroboscopes by PCE and several other companies. Some stroboscopes can be used without a mains adaptor as they have rechargeable batteries and each model is light and easy to use. For these reasons they are perfect for on-site work for busy professionals in many sectors of the industry. Some of the stroboscopes have a high light intensity of 600 to 900 lux at a distance of 1m. The high-end products of the Beacon-series have even got a luminosity of 1374 lux on a distance of 5 meters. The flash frequency for our stroboscopes is adjustable allowing the most accurate measurement of rotation velocity of components to assist in preventative maintenance. Stroboscopes are a good alternative as they produce quick results and are more cost effective. The stroboscopes that we offer don't need a vast amount of user knowledge to operate. All of them are practical tools for all kinds of professional and non-professional workers. Some stroboscopes have the opportunity to transfer the measured data to a computer via the RS-232 interface. This makes it easy to save, store and print the data that you have measured. The test series can also be graphically presented by saving them to your PC. This interface allows it to easily apply different kinds of presentation methods. We try to offer good value for money by maintaining highest quality standards which can be seen on the materials we use for our stroboscopes. Some of them work with xenon lamp, other with latest LED-technologies. Here are some general applications of stroboscopes. If you don't find the stroboscopes you are looking for, please contact us and we will help you find the best solution to suit your needs by calling our offices on: +44

UK customers +44(0) 23 809 870 30 /

US customers (561) 320-9162 and our technical staff will advise you regarding our measuring instruments.
Here you can see stroboscopes from these companies:





Technical specifications for Stroboscopes can be found at the following links:
- PCE-VT 250 Stroboscopes
(Stroboscopes with automatic detection of revolutions / built-in stroboscope)


- Nova Strobe dbx Stroboscopes
(Stroboscopes with power supply source, external trigger input and xenon lamp)


- Xenon Hand Stroboscopes SB
(with mains current supply and external trigger- input, up to 40,000 FPM)


- Stroboscopes PCE-OM 15
(Stroboscope powered by mains / with external trigger input / up to 30.000 r.p.m. / xenon bulb)


- Stroboscopes PCE-T259
(contact-free tachometer function up to 99,999 rpm, flash rate 100,000 fpm)


- Stroboscopes RT Strobe 3000 LED
(stationary stroboscopes with intelligent LED-technology for web widths up to 300 mm)


- PCE-LES 100 Stroboscopes
(Stroboscopes with compact LED with a range of 60 ... 99.990 flash/min)


- Stroboscopes Nova Strobe dbl Kit
(Flash Range 30 - 500,000 FPM, internal NiMH rechargeable batteries, with carrying case)


- MP7 Stroboscopes
(Automotive Meters with a voltage supply of 12 V/Hz and with a weight of 1.2 kg)


- Stroboscopes Nova Strobe pbl Kit
(speed measurements up to 500,000 rpm, with external phase delay, carrying case)


- Stroboscopes RT Strobe 5000 LED
(stationary device with a frequency range of 120.000 FPM, 120 high-end LEDs)


- PCE-LES 200 Stroboscopes
(Compact stroboscopes, LED flash, maximum high frequency of 300.000 flashings per minute)


- MDB01-M Stroboscopes
(Automotive Meters with a rotational speed of 300 to 9999 U/min and a voltage of 10 V to 18 V)


- Stroboscopes RT Strobe 7000 LED
(stationary device with a high frequency range, 200 high quality LEDs for 120.000 flashes per minute)


The animation illustrates the possibilities for optical analysis and inspection that can be undertaken with a stroboscope, whether it be for a detailed view of a process, such as a video of a process within a machine or in the development of experiments in research and development, or in a simple inspection of a factory. Most stroboscopes have a graduated trigger input and output. The flash frequency can be adjusted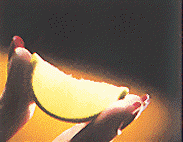 in such a way as to match the velocity of a rotating component making adjustments to machinery much easier.

Stroboscopes are especially suited for visualising processes that involve liquids or where there is a risk of splashing. Stroboscopes use strobe light to illuminate a rotating or moving object. Rheintacho has more than 35 years experience in this field. If you wish to take measurements professionally or commercially, stroboscopes can be attached to all makes of video cameras. Some models may require an adaptor to allow them to be connected. Please consult our technicians if you have any concerns regarding compatibility.
Next we can view an example of use (MitiLite) based on the experience with images from using a stroboscope. The versatility of the stroboscope is put to the test with a printing press, such as in other situations in other fields of industry. This article appeared in the weekly "Fabricacisn de Papel":

PCE Instruments introduces stroboscopes to paper manufacturing
As economic conditions require that many manufacturers reduce the size of their technical departments, it becomes more important for them to provide devices for their personnel so they can analyse processes both quickly and cost effectively. One group of these devices are stroboscopes, used not only for measuring rate of rotation but also frequency of movement of an object. In this way, stroboscopes are a universal method of support in the evaluation of the condition of machinery with rotating components and also for visualising the results. The fixed images generated by stroboscopes make things visible that would normally remain unseen to the human eye.
Furthermore, devices of this type are used for quality control by well known manufacturers of machinery, apart from just by personnel in a factory.
MitiLite series stroboscopes are especially valuable for the analysis of lamination processes. With the stroboscope you can detect the causes of extreme conditions such as dew point on filtering mechanisms. says Vielhaber, one of the engineers that knows the device first hand. Stroboscopes are very light, they are easy to use off-site and can be Stroboscopesd at a desired angle. Apart from analysing parameters of quality, stroboscopes make it possible to test quickly and accurately the rotation of components that moves belts and to synchronise the motion of several belts. As well, they can be used to determine the rotation of the rotor of ventilation systems.

Analysis of filters:
Specifically for very wide filtering mechanisms, the MitiLite series stroboscopes transmits an analysis of an entire trajectory. For example, the analysis of a water line and its movement is an important criteria for the functioning of a conveyor belt transporting material and its spindle. Observing the loss of water through the filtering mechanism and the water extracted. The "fixed image" of the stroboscope is proportional with respect to the duration of water extraction.
Stroboscopes are optimum in the analysis of a screen, says Vielhaber,
where defects in the formation of paper can be detected."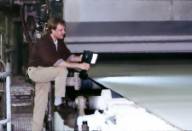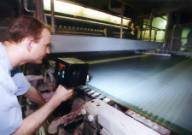 Stroboscopes for observing screening mechanisms Example of use of stroboscopes
Test synchronisation behaviour of cables
Stroboscopes can be perfectly employed to analyse the behaviour of synchronised cables. Wear on cables is very high when they are used to produce different velocities causing the functional life of the cable to deteriorate quickly. In the same way, difficult behaviour in cables occurs after an abrupt stop or a break in paper flow. Stroboscops allows for visualisation of the difference in velocity. Tests can be made for each group to ensure optimum settings. The image shows how easily results are measured with the smoothing equipment. Ensure that the stroboscope is not used near an infrared barrier or a break indicator, as the consequences would be disasterous.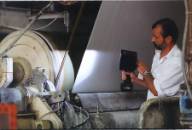 HiLighter class stroboscopes
These mains powered stroboscopes are used for analysis over a period of time, such as analysing a conveyor belt with different adjustments, filters, or point of impact made by a sifting table. The entire width of a conveyor belt can be viewed by stroboscopes.
If these high performance stroboscopes are positioned in an area of manouvering to the side of a cylinder case, and equally see the water as its being pulled by the conveyor belt.
HiLighter class stroboscopes can also be used to continuously test steel roller systems. To identify errors on the surface of materials is very easy.
For example, in the impression of pressure rollers, these impressions can easily be followed. The gap in errors in rolling steel can be attributed together with the rollers. With stroboscopes we know exactly what cylinder or what pair of cylinders have made the impression. The brightness of these stroboscopes is perfect for glossy or reflective surfaces allowing for detection of the smallest errors.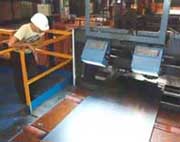 Portable stroboscopes or those with a rechargeable battery are perfectly suited for machines used in the production of beer or in printing. The movement can be captured as a still and analysed to determine what exactly is occurring in the process.
The properties of the product can also be tested, such as after a change of rollers or a complete change in machinery. The complete path up to 1.2m can be inspected. For this reason there would be no reason to stop the machine for inspection.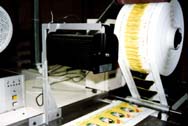 Links to manufacturers:
- Monarch stroboscopes (rechargeable powered stroboscopes for inspecting rotating components in machinery)
- Lutron stroboscopes (mains powered stroboscopes for use in industry, laboratories and research)
- General overview of all the technical fields of measurement of PCE Instruments.
If you wish to view or print a selection of stroboscopes from our catalogue, click the PDF symbol.