Here you will find thermo anemometers for the measurement of air velocity, air temperature and air flow. According to the type of application, thermo anemometers are made as hot wire thermo anemometers or pocket weather thermo anemometers, all of which can measu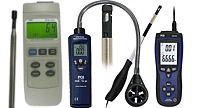 re air velocity and air flow. The results of measuring the air velocity can be stored in memory, depending on the model. They are ideal for taking quick or constant measurements. You will find a suitable device for whichever application, that is to say, for industry, private workshops or for hobbies, including to monitor ventilation installations, process checking, for nautical enthusiasts, etc. Accessories are also available along with ISO calibration certificates for these instruments (information: calibration of anemometers). Here you will find a table with wind velocities and an approximate classification. If you don't find the thermo anemometers you are looking for, please contact us and we will help you find the best solution to suit your needs by calling our offices on:

UK customers +44(0) 23 809 870 30 /

US customers (561) 320-9162 and our technical staff will advise you regarding our measuring instruments. Our engineers and technicians will be happy to help you with the thermo anemometers, and of course, with the other products in the field of regulation and control, and scales and balances.
Here you can see thermo anemometers from these companies:








At the following links you will find technical specifications for thermo Thermo Anemometers:
- AVM 3000 Thermo Anemometers
(Thermo anemometers with the size of a cigarette package)
- P-770-M Thermo Anemometers
(Thermo anemometers to measure the speed and temperature of air and water, max. 40 m/s, USB)
- PCE-423 Thermo Anemometers
(Thermo anemometers with telescopic probe to air velocity and temperature, USB, software)
- KM A004 Thermo Anemometers
(Thermo anemometers with thermal probe for low speeds, temperature measurements)
- TA-410 Thermo Anemometers
(Thermo anemometers with straight / flexible probe, thermal measurement principle)
- ThermoAir3 series Thermo Anemometers
(Thermo anemometers to measure low air flow with a directional or multidirectional sensor)
- PCE-009 Thermo Anemometers


(Thermo anemometers with telescopic probe, internal memory, RS-232, software, etc)
- PCE-FWS 20 Thermo Anemometers


(Thermo anemometers to measure temperature, humidity, pluviometry, wind speed, logger)
- PCE-PFM 2 Thermo Anemometers
(Thermo anemometers to measure flow speed with a Pitot tube, data storage and software)
- PVM-620 Thermo Anemometers
(Thermo anemometers with Pitot tube, for high circulation speed)
- METEODIGIT IV Thermo Anemometers
(intelligent socket system, zero adjustment, average determination)


If you wish to view or print the selection of thermo anemometers in our catalogue, click the PDF symbol