Calibrators
Calibrators or process calibrators are used for basic measuring, testing and regulation techniques for setting and verifying test installations and instrumentation. Calibrators have different

magnitudes that should be attributed to normal measurement signals. These measurement signals or regulated magnitudes are denominated as the test signal, which our calibrators can provide. They are defined as 0 to 20mA, 4 to 20mA, 0 to 10V and 0.2 to 1 bar. These magnitudes signify for example temperature, output or settings of a test valve (0 to 100% of valve opening). This signifies that for a regulating signal of 50% (eg. 10mA) with an input range of 0 to 20mA in a test valve, the valve opening will be set at 50%. As these correlations are very important for a good functioning test and the transmission of process signals, all measurement instruments and regulations should have been previously calibrated with our calibrators. Instruments that are already functioning should be verified regularly and, if necessary, recalibrated wth process calibrators, ensuring the level of quality desired. Easy to handle devices or instrumentation such as infrared thermometers or sound meters can be and should be verified regularly with temperature or sound calibrators when a variation is suspected to be erroneous. Our high quality calibrators offers these possibilities to experts in measurement techniques, testing and regulation or in quality control at an excellent price for the quality of the product, which is not necessarily the case with other manufacturers. If you can't find the calibrators you are looking for, please contact us and we will help you find the best solution to suit your needs by calling our offices on:

UK customers +44(0) 23 809 870 30 /

US customers (561) 320-9162 and our technical staff will advise you regarding our measuring instruments. Our engineers and technicians will be happy to help you with the calibrators, and of course, with the other products in the field of regulation and control, and scales and balances.
Here you can see calibrators from these companies:





Technical specifications for Calibrators can be found at the following links:
- PCE-123 Calibrators


(Indicates nominal value for simulations and measures electrical signals and frequency)
- PCE-C 456 Calibrators
(Calibrators for simulations and graphic measurement / pulse generator (easy and cycle ramps)

- PCE-789 Calibrators
(Multifunctional calibrators, current and voltage source, functions generator)


- METRAHIT MULTICAL Calibrators
(Calibrators with integrated temperature sensor, current, voltage, frequency... signals measurement)


- EVO eLoad Calibrators
(Calibrators for testing of solar cells and batteries, current, voltage and resistance)


- ISO-Kalibrator 1 Calibrators
(Resistance calibrators for testing and calibrating resistance meters)


- CS series Calibrators
(Calibrators for calibration of contact and infrared temperature sensors, high precision, RS-232 interface)


- PCE-SC41 Calibrators
(Class II sound calibrators for verifying the precision of sound meters)


- CR-515 Calibrators
(Class I sound calibrators to verify the sound meters accuracy)


.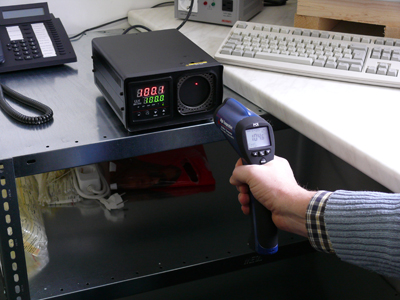 The image shows the device calibrating an infrared thermometer.
Calibrators are also denominated as calibration systems and are used for setting, measuring and calibrating voltage, pulses, current, resistance and frequency signals. Not all calibrators have this capability. Depending on the requirements, there can be the need for different devices or models. In case there is the need for some or all of the properties previously mentioned, a multifunction device should be considered. Multi-function calibrators allow for the normal measurement of various values, generally allowing them to be read simultaneously. High quality devices are ideal for the measurement of voltage, pulses, current, resistance and frequency signals, such as simulation and measurement of resistance thermometers and thermal elements. This last point, about measurement and simulation, is also described in the devices as the abbreviation "TC". Resistance thermometers are abbreviated to RTD. As well as multi-function calibrators, calibrators are available for pressure, sound, processes and blocks. These are the most common types of calibrators.
If you wish to view or print the selection of calibrators from our catalogue, click on the PDF symbol