Current Detectors
On our website you will find current detectors that are ideal for measuring AC or DC voltage. Current detectors are irreplaceable for inspection work and maintenance. We offer the following: voltage detectors, voltage leak detectors, voltage power detectors,

metric detectors, current detectors and more. These high quality current detectors include the capacity to measure many other parameters, such as capacity, resistance, power (both by way of clamps or by means of a hand held digital device with external clamps with a range of one or three stages). The current detectors are like the majority of our measurement instruments in that they meet and excel ISO standards. This calibration is done in a laboratory and comes with an accompanying certificate. All of our current detectors can perform the demanding tasks in each industrial sector regardless of the technical problem you encounter. If you can't find the current detectors you are looking for, please contact us and we will help you find the best solution to suit your needs by calling our offices on:

UK customers +44(0) 23 809 870 30 /

US customers (561) 320-9162 and our technical staff will advise you regarding our measuring instruments. Our engineers and technicians will be happy to help you with the current
Here you can see current clamps from these companies:



You will find technical specifications for our Current Detectors at the following links:
- PCE-DC 1 Current Detectors
(Current detectors up to 200 A AC/DC, frequency measurement included, voltage surge category III)


- PCE-DC 2 Current Detectors
(Current detectors up to 200 A AC/DC, ohms measurement included, volt. surge category III)


- PCE-DC 3 Current Detectors


(Current detectors up to 80 Amp AC/DC with high resolution, category III surge protection)


- PCE-CM 4 Current Detectors
(Current detectors up to 400 A, 4 digits LC-display, HOLD- and MAX/MIN function)


- PCE-DC 41 Current Detectors
(Current detectors up to 600 A and V, 4 digits LC-display, resistance measurement)


- PCE-DC 4 Current Detectors
(Current detectors up to 1000A, big display, DCV, ACV, ACA, frequency, diode test)


- PCE-LCT 1 Current Detectors
(Current detectors up to 100 A AC, category III)


- Converter F3N Current Detectors
(Current detectors Power and frequency measurement at sinusoidal and distorted signals)


(Clamp meters with real-time RMS measuring, AC measuring, display-hold-function)


(Clamp meters for measuring alternating, detection of rotating magnetic fields)


(AC clamp meters with measuring adapter function, detection of rotating magnetical fields)


(Clamp meters with Earth Leakage, It also provides all the functions of a clamp-on multimeter)


(Clamp meters to detect insulation faults and untimely tripping of RCDs)


- 1-phase Current Detectors C.A 8230
(1-phase-current detectors with TRMS-measurement, Measuring up to 6500 A and data logger)


- Current Detector C.A. 8334B
(current detectors with Voltage TRMS up to 960 V, Active, reactive/apparent power and energy)


- Current Detectors C.A. 8335
(Current Detectors with Active, reactive, apparent power and energy, Voltage to 1000 V)


- PCE-PCM 1 Current Detectors
(With internal memory, USB port and software / three-phase / energy meter / TRMS)


- PCE-UT 232 Current Detectors
(Current detectors for measuring power in real time, with memory, USB software)


- PCE-GPA 62 Current Detectors
(Current detectors with network analyzer / power and energy meter, storage, graphic display)


- PCE-PA 8000 Current Detectors
(Three-phase current detectors with registration in the SD card, interface)


- PCE-360 Current Detectors


(Three phase power and harmonics analyzer (real time) with data storage)


- PCE-830 series Current Detectors


(3 phases, measures power and analyses harmonics, with memory, interface and software)


- Kyoritsu 3600 Current Clamps
(Clamp meters for three-phase power and energy analysis, 10 measuring parameters)


- Kyoritsu 6310 Current Detectors
(Current Detectors for up to 3000 A, harmonic analysis, long recording duration, colour display)


General information about current detectors: They are measuring devices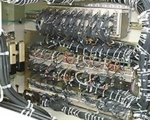 to indirectly determine currents. Whereas with direct

measurement the electric circuit must be broken to place ammeters in series, disrupting the circuit, this process isn't necessary if you measure indirectly using current detectors. This is because it measures the magnetic effect of the electricity field around the wire or conductor. As you open the current sensor jaws, it's possible to enclose the electrical cable without having to interrupt the circuit. This permits the measurement of installations that you are not able to disconnect. Another advantage is the galvanized insulation, allowing for the product to have a longer life. The signal is, in comparison to the measured value, completely independent from the power. All our current detectors can also come with an ISO 9000 laboratory calibration certificate, this is especially interesting for companies that wish to incorporate these current detectors into their quality control system or who wish to have an annual recalibration. The ISO certificate includes calibration in a laboratory and a test certificate with all the measurement values. In this way, you can always be sure about the quality and reliability of our current detectors. As you can see in the specification we have many different features included in our instruments. Many of them include software, storage facilities and different interfaces. These three attributes make it easy for the user to store, transfer and analyze the data on your computer. Our software is running on most Windows operating systems. Sometimes it is very comfortable for the user to be able to make long-time measurements and with our gadgets you are able to safe that data on the computer even though there is already an internal storage facility in most of our current-measuring-devices. In case this is filled with data you can simply save it to your PC and with the help of the software you will easily be able to analyze the transferred data.
If you wish to view or print a selection of our current detectors from our catalogue, click the PDF symbol.