LAN Tester
LAN testers cover the fields of installation and network control. These LAN tester can be used in the workplace and are ideal for technical service professionals and network administrators. These LAN testers can determin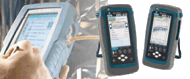 e IP addresses, identify polarity, connected port and link connectivity. Furthermore, they can test fibre optic cables. It can also show cable break points, incorrect connections in fibre optic lines. All this in a large pen design. With these LAN testers you can test the state of LAN network connections to Hubs and Switches and can analyse the traffic of a network and which IP it generates. If you can't find the LAN tester you are looking for, please contact us and we will help you find the best solution to suit your needs by calling our offices on:

UK customers +44(0) 23 809 870 30 /

US customers (561) 320-9162 and our technical staff will advise you regarding our products.
Here you can see LAN analysers from these companies:


Technical specifications for LAN Tester can be found at the following links: