Colour Analysers
Here you will find colour analysers for both colour and luminance for measuring surface colours of products. Our professional colour analysers include the RGB series. With these colour analysers you can read the difference in colour in L d*a*b*, L*C*H* and Delta E*ab according to your requirements.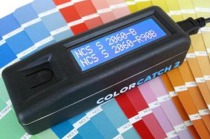 The most popular model of colour meter in our range of products is the PCE-RGB. Aside from being easy to use and economical, our colour analysers are used for determining the location of a colour on the XYZ axis of non-radioactive products. The geometry of the measurement of these colours, with luminosity including a field of measurement of 8mm allow for universal use for all types of materials. The range of applications of colour analysers is extensive and includes industry, agriculture, crafts, commerce, as well as research and development. Furthermore, these devices are used by artisans, paint manufacturers, architects, painters and designers for testing colours (for colour card, NCS, RAL, HKS) or for establishing colours after mixing various colours. We can also make ISO 9000 calibration certificates for colour analysers or factory calibration documents. If you can't find the colour analysers you are looking for, please contact us and we will help you find the best solution to suit your needs by calling our offices on:

UK customers +44(0) 23 809 870 30 /

US customers (561) 320-9162 and our technical staff will advise you regarding our measuring instruments. Our engineers and technicians will be happy to help you with the colour analysers, and of course, with the other products in the field of regulation and control, and scales and balances.
Here you can see colour analysers from these companies:
Technical specifications for Colour analysers can be found at the following links:
- PCE-RGB Colour Analysers


(For RGB and HSL colour spaces, RS-232 interface and software)


- colourStriker Colour Analysers
(Colour analysers for non-contact measurements, Bluetooth interface, software)
- PCE-TCD 100 Colour Analysers
(Colour analysers that comply CIE, LAB and LCH regulations)


- NH310 Colour Analysers
(for quality control, autom. black and white calibration, degree of whiteness and yellowness)

- PCE-TCR 200 Colour Analysers
(Accurate to the CIE standard rules, measure the distance ΔE color, USB Port, PC software)


- Sprektomaster 565 series Color Analysers
(for measuring of colour and glance, long battery service life (8000 measurements))


- PCE-WSB 1 Colour Analysers
(Colour analysers for measuring the whiteness level, ISO 2470 and ISO 3688 approved)


CIE*Lab colour space
(CTA)
RGB colour space
(PCE-RGB)
HSL colour space
(PCE-RGB)
RAL / NCS Index
Colorcatch
Information about the measurement of colour: Different colour spaces are classified by a coordinating system in which all of the different colours are represented by coordinates on an axis. Conditioned by the structure of the human eye and taking into account that it will be a human eye observing the colour, these colours are then placed on an axis. They are used in some 30 systems of colour spaces. The images above show the most important colour spaces.

A fundamental problem of adjusting colours, in developing colour analysers, is the sensitivity of the human eye. The problem is that the colour spaces don't coincide with the perception of the human eye. When colours are mixed, problems exist in the perception of the area for the colour yellow. On the other hand, with a mix of colour dominated by the colour blue, you can simulate a lighter shade of colour to the human eye. To eliminate such problems they are used in conjunction with a colour analysist frequency in such a way as to fabricate different shades. The manufacturer of a product sends a product out to be painted or treated having agreed on using an established colour standard (such as RGB colour space), both possess the same colour analyser. The factory, follows the agreement, verifies the test output of the colour of the product and ships it as it meets the standard. They then continue with treating the product then check it against the frequency of its colour when it arrived. In cases where the result is contrary to the agreement, the two departments can communicate exactly about the difference in colours and use the same colour space in corresponding tests.
Also visit our pages for Lux meters and Coating thickness meters.
If you wish to view or print a selection of colour analysers from our catalogue, click the PDF symbol.