Differential Pressure Meters
This page contains information about our differential pressure meters used as handheld digital devices.These differential pressure meters are excellent for measuring differential pressures of non explosive gases and liquids in the industrial sector, in medical engineering and meteorology. These differential pressure meters contain many characteristics that can be found i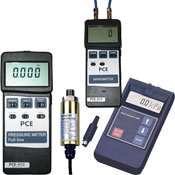 n modern measuring instruments such as data hold function, LCD or LED display, internal memory and the ability to transfer data to a computer and software for processing measurement values. Some models come with an analogue output. As such, the readings can then be used to regulate or test systems. Please take into account the different measurement ranges of our differential pressure meters (0 to 400 bar) and their suitability for gases, solids and liquids. In relation to differential pressure meters for liquids, it must be taken into consideration that they can only be used with liquids like water, oils and emulsions, but not with strong acids or alkalis such as bleach or hydrochloric acid. Note: these devices do not come with ATEX protection. Furthermore, they cannot be used with inflammable gases or those with high concentrations of suspended particles, as such, there is always a inherent risk of damage to the apparatus. Our technicians and engineers are happy to assess your needs regarding differential pressure meters, or any other of our products. If you can't find the differential pressure meters you are looking for, please contact us and we will help you find the best solution to suit your needs by calling our offices on:

UK customers +44(0) 23 809 870 30 /

US customers (561) 320-9162 and our technical staff will advise you regarding our measuring instruments. Our engineers and technicians will be happy to help you with the differential pressure meters, and of course, with the other products in the field of regulation and control, and scales and balances.
Here you can see current clamps from these companies:




Technical specifications for our Differential Pressure Meters can be found at the following links:
- PCE-P01/P05 Differential Pressure Meters
(differential pressure meters with a measuring range from -137 to +137mbar)

- PCE-P series Differential Pressure Meters
(differential pressure meters to measure air, accurate, RS-232, software)

- PCE-910 / 917 Differential Pressure Meters
(differential pressure meters to measure liquids and gases, highly accurate results)

- PCE-PFM 2 Differential Pressure Meters
(differential pressure meters to measure the air speed, pressure, temperature)

- PCE-MS series Differential Pressure Meters
(shows industrial differential pressure, with display and analogue output)

- PVM-620 Differential Pressure Meters
(pitot tube differential pressure meters to measures wind speed,)

- DC 420 Differential Pressure Meters
(with valve block for sealed connection to all compartments, range 300 ... 1100 hPa)

- ManoAir100 series Differential Pressure Meters
(differential pressure meters to great precision, measuring range of ± 2000 Pa or ± 20 kPa)

- ManoAir500 series Differential Pressure Meters
(differential pressure meters to great precision, measuring range of ± 2000 Pa or ± 200 kPa)

- Differential Pressure Meters for steady use
(pressure transducers for monitoring equipment and standard signals production)

Differential pressure meters are generally used for measurements before and after a specific point, for example, the input and output points of a pump, or to determine the condition of a filter in a filtration system. It's also possible to carry out a quick zero reset. Differential pressure meters are frequently used to verify hermetical seals or measure pressurized containers in relation to the absolute exterior pressure. The sensor is a mechanism that measures the difference between two absolute pressures, that is to say, the differential pressure. The sensor is generally composed of two measurement chambers that are separated by a membrane. The deviation of the membrane due to the pressure shows the measurement of the differential pressure. A special group of differential pressure meters are those devices that are used in combination with a Pitot tube. This is where Bernoulli equations are applicable. The Pitot tube is put in front of the open tube, and is exposed to a cross current in such a way the the center of the shaft is situated parallel to the current and the current enters via the front of the tube opening. The part behind is securely connected to a differential pressure meter. To ensure an exact measurement, all our differential pressure meters can be calibrated and provided with an optional ISO certificate which can be ordered with the device or at a later date when it is required. This consists of a laboratory calibration and a corresponding ISO certificate.

If you wish to print a selection of the differential pressure meters from our printed catalogue, click the PDF symbol.