Cable Detectors
With certain models of cable detectors you can locate open power cables, either live or dead (without current), with voltages up to 300V. Cable detectors can locate cables, circuits, short circuits and ground points. To perform these functions it is not necessary to disconnect electrically sensitive devices or to disconnect the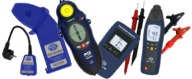 power from the cable which is being tested. Cable detectors can also locate ferrous and non-ferrous metals, wood and plastic with a high level of accuracy. These cable detectors provide a safe way to test wall sockets which you are not sure about the cables within and their output. Cable detectors are also very useful in that they allow for quick and safe checks when holes are required to be made in walls, ceilings and floors so that the labourer does not electrocute themselves. If you can't find the cable detectors you are looking for, please contact us and we will help you find the best solution to suit your needs by calling our offices on:

UK customers +44(0) 23 809 870 30 /

US customers (561) 320-9162 and our technical staff will advise you regarding our measuring instruments. Our engineers and technicians will be happy to help you with the cable detectors, and of course, with the other products in the field of regulation and control, and scales and balances.
Here you can see cable detectors from these companies:




Technical specifications for Cable Detectors can be found at the following links:
- PCE-191 CB Cable Detectors
(Cable detectors to locate live cables in walls, ducting and mains wiring and also interruptions in cables)


- PCE-180CB Cable Detectors / trackers


(Cable detectors for finds network cables in ducting and walls)
- EasyLoc Cable Detectors / trackers
(Cable detectors to locate transfer tubes in the soil to a depth of 7 m)


- D-tect 100 Cable Detectors / trackers
(Finds all ferrous and non ferrous metals, electrical pipes, wood and even plastic with a high accuracy)

- PCE-CL 10 Cable Detectors
(Cable detectors for lines with or without voltage / to check circuits and lines)


The advanced cable detectors system allows for safe detection of wires with or without current including live electrical circuits up to 300V. It isn't necessary to cut the power or disconnect devices that are electrically sensitive. These are the different applications for cable detectors:
- Detection of cables in walls, ceilings and floors
- Detection of interruptions in cables, switches and fuses
- Detection of short circuits
- Detection of ground connection in triple phase mains power
- Locate narrow parts in installation tubes
- Follow a ground cable up to 3m below the surface
- Follow protective tubing in water and heating
Cable detector systems are composed of a signal generator for active lines and a transmitter for cables without current such as a receiver. Cable detectors feed high frequency electro-magnetic signals through the lines being tested. Cable detectors are also used to show the difference between closed and open circuits.
If you wish to view or print a selection of cable detectors from our catalogue, click the PDF symbol.