Microscopes are formed by different parts: an optical and a mechanical part. Here follows a short description of these parts:
- Ocular: Are the lenses situated the closest to the beholder viewer
- Arm: Situated perpendicullary to the base, they can be vertical or arched, so that they can joined to the base.
- Stage: Is the part that holds the sample, it consists on two grippers and the hole from which comes the light to
observe the sample
- Macrometric fitting: An screw for focus and choose lenses on a quick way
- Micrometric fitting. An screw for focus and choose lenses on a slow way
- Stage fitting: An screw that fits the stage
- Base: is the part that holds the microscope
- Light souce: It is used to light the samples or items to be observed, it is isolated on the base.
- Grippers: Two grippers located on the stage. Their aim is to hold the samples
- Objective lens: The lense situated the closest to the sample
- Revolver: Is the part that holds the set of objective lenses, it allows to change them.
- Tube: Is the part were the ocular is, it holds the revolver with the objective lenses on the bottom and the oculars on
the top.
Information concerning the use of microscopes:
- Microscopes should be installed straight and safely
- Mircorscopes need to be connected to a socket
- Specimen stage on lowest level
- Object needs to be in the middle of the specimen stage
- control illumination level with the help of the aperture
Different types of microscopes
Simple Microscopes: They just use a single magnifying glass
Composite Microscopes: They are formed by a kit of glasses, in a way that they allow to magnify the image through them. (optics microscopes).
Electronic Microscopes: They use electrons instead of visible light (fotons) to provide imag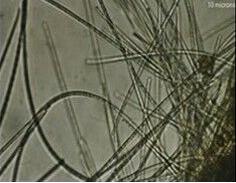 es of small items. Those icroscopes increase the speed of electrons to get a shorted wavelength and a better resolution (electrons have a wavelength rather small than visible light, so they are able to break up very small structures) It gives a magnification capacity about 500.000 magnifications compared to other optical microscopes. The images obtained are on black and white as they use electrons instead of light. The electronic spot is produced by a Wolframic cathode.
Microscopes of reflected light: These microscopes are used mainly to observe transparent and liquid preparations. They are specially used in blood analyse, cells, tests in plants. Classical reflected light microscopes have a really short working distance, under 4 mm. This is why these microscopes are suitable for very thin solutions.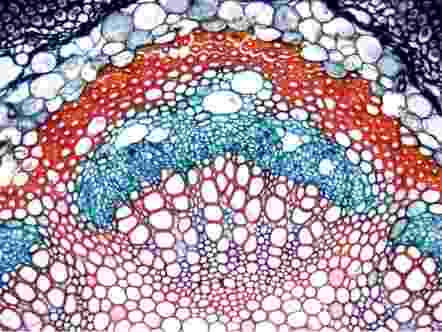 On the image above you can observe a cell that has been tinted for better observation trough microscope
Solutions are situated on the samples holder and covered with the samples cover lid. Reflected light microscopes are usually offered with a full range of magnification glasses (from 40 to more than 1000). For works of 1000 magnifications it is necessary to put a drop of oil immersion to seal the space between the sample holder and the cover lid. Images until 400 magnifications can be seen without any special technic. The magnification on reflected light microscopes can be increased by changing the oculars
Stereo Microscopes using reflected or transmitted light: These microscopes are typically used to view large objects. Their range of uses includes analysing insects, plants, coins or for testing materials. The majority of reflected light microscopes have a working distance of 40mm, making these microscopes ideal for working with large objects or for testing different materials. Normally we offer these microscopes as models with two eye pieces.
Fluorescence Microscopes: Used to reveal natural fluorescent molecules, or to reveal an added fluorescence, when detecting antibodies.
On this image you can see a sample that has not been treated, because it is fluorescent by itself.
This circumstance makes tinting unnecessary
In immunity fluorescence a fluorescent dye (almost always FITC) is added to an antibody. These antibodies can be produced on a very specific way to concrete biological structures. The dyes are extremely selective, but not so intensive as in traditional secondary fluorescence.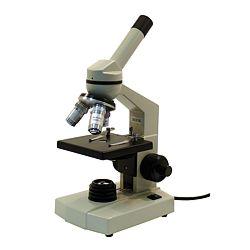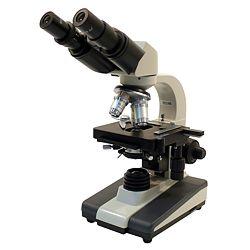 For applications that require to keep images there are trinocular microscopes. They consist on binocular microscopes with an additional tube that allows to install an USB camera that recordes images. These images can later be transferred to a PC or a laptop. It also offers the possibility to connect a microocular to the binocular microscopes. This microocular is simply set to the ocular of the microscope. This gives the opportunity to turn microscopes on video microscopes in an economical way.
Requirements to the microscopes:
Since microscopes are used in different areas, their equipment differs. There are normal microscopes with a magnification from 400 to 600-fold. There are also special lighting systems available which makes the examination of low-contrast objects possible.
Microscopes in PTB
If you wish to view or print a selection of microscopes from our catalogue, click the PDF symbol