- PCE-VE 1000 Video Endoscopes
(various attachable cables, image and video recording, 7 " LCD, images rotatable in steps of 90 °, digital zoom)


- PCE-VE 500 Video Endoscopes
(Wireless video endoscopes, LED illumination, memory, Flexible cable length 2000 mm and Ø 5,5 mm)


- Video Endoscopes C2
(to detect surface flaws, 3,5 " LCD, incl. Image and Video Ø 10 mm)


- Video Endoscopes V55CCD3519
(Rigid Video Endoscopes, length: 205mm, Resolution (pixels): 1028 x 1024 / Ø 1,9 mm)

- Findoo ProfiLine Plus Video Endoscopes
(Endoscopes for wide angle and near range application with two tubes: Ø 9 mm and Ø 16 mm)


- Video Endoscopes V55CCD3527
(Rigid Video Endoscopes, Illumination LED light adjustable Ø 2,7 mm)

- ScopeIT proV Video Endoscopes
(Endoscopes with LCD-screen and Ø 9 mm)


- Video Endoscopes V55CCD3550
(Rigid Video Endoscopes, you can see image picture from a 3.5" LCD screen / Ø 5 mm)

- Video Endoscopes PCE-VE 380N
(Endoscops with 30.00 m cable, Probe Ø 28 mm, front view, head with 8 LED´s, easy handling)


- VIS 200 / 250 Video Endoscopes
(for the analysis of damages in tubes, pipes or lines, miniature camera head of Ø 26 mm)


- VIS 300 / 350 Video Endoscopes
(with a flexible camera head, with SD memory card, probe Ø 40 mm, electronic meter count)


This video shows the the uses of video endoscopes in maintenance works. Video endoscopes saves many hours of assembly and disassembly in order to be able to make a visual inspection on a particular item of equipment or industrial machinery.
Video endoscopes may have trouble stabilising your images. We do however, offer adaptors which will allow you to connect the video endoscopes to objects permitting you improve visibility in certain areas or capture images at different angles.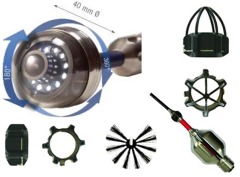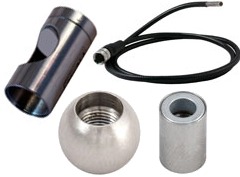 You will find we sell adaptors for many types of the video endoscopes that we have available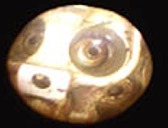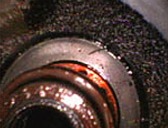 As an optional component, we have available a 45° mirror attachment to increase the field of vision. You can also order a magnet attachment to locate missing magnetic objects, such as screws, and extract them.



General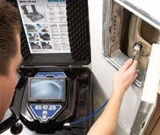 information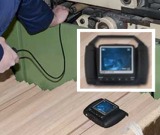 about video endoscopes: Video endoscopes have a cylindrical form that contains a light and a len that magnifies the image from the optic fibres to allow a visualisation of the area being analysed to determine the fault. Video endoscopes have been traditionally used within the medical industry. Today, they are commonly used in the industrial sector to inspect cavities with limited accessibility (injection molds, machinery, motors, casting, etc). Our video endoscopes are flexible and return to their original form after they are extracted. For documentation we offer these video endoscopes with camera and video adaptors. The two images above show two examples of video endoscopes at work. To the right you can see that an automobile's exhaust pipe is being inspected for oxidation, obstructions and fractures. To the left it is being used to inspect the plumbing of a sink for obstructions.
Please note: Our video endoscopes are not to be used for medical applications. They can only be used in the industrial sector, DIY, product development along with personal use such as for hobbiests.
If you wish to view or print the selection of video endoscopes from our catalogue, click on the PDF symbol