Fiberscopes are very easy to use and can be handled by technicians with limited experience.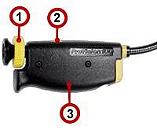 1 Ring for focal adjustment
2 Light switch (press it to illuminate the visual area)
3 Handle (enclosure)
Fiberscopes function without the possibility of saving images. Of course, we offer an adaptor which will allow you to connect the borescope to a digital camera, permitting you to capture images, digitise them and further document them onto a PC. The adaptor has a diameter of 37mm. It is a standard adaptor for most types of digital cameras, although some models will require another adaptor to accomodate from 52mm or 48mm to 37mm. Unfortunately we only have the 37mm adaptor available from our store, the other adaptors can be found at shops specialising in photography and its components, for example, Hama.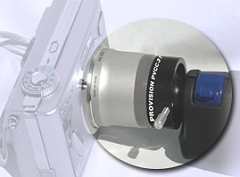 We sell adaptors for all types of fiberscopes that we have available




General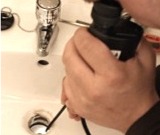 information about fiberscopes: Fiberscopes have a cylindrical form that contains a light and a lens that magnifies the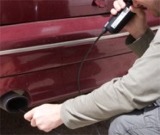 image from the optic fibres to allow a visualisation of the area being analysed to determine the fault. Borescopes are traditionally used for diagnostics in the sector of medicine. Today, they are used in the industrial sector, for cavities with limited accessibility (injection moulds, machinery, motors, casting, etc). Our fiberscopes are flexible and return to their original form after they are extracted. For documentation we offer these fiberscopes with camera and video adaptors. The two images above show two examples of the fiberscope at work. To the right you can see that an automobile's exhaust pipe is being inspected for oxidation, obstructions and fractures. To the left it is being used to inspect the plumbing of a sink for obstructions. Attention: Our fiberscopes are not to be used in the field of medicine. They can only be used in the industrial sector, DIY, product development along with personal use such as for hobbies