Borescopes
Borescopes are the ideal tool for optical inspection and maintenance. Borescopes offer new perspectives to viewing the insides of machines and cavity walls. Thanks to the video flexible fibre optic cable available on some of our borescopes and owing to their light weight enclosure, these extraordinary devices, some of which are wirelesss, can locate problems and conflicts within the system very easily and quickly, allowing for preventative measures to be taken without the need to dismantle the machinery first.
Our video borescopes are used mainly by electricians, security personnel, specialists in the professional sector, and mechanics of all types. These mobile borescopes are great tools for use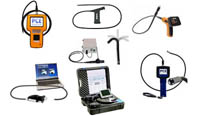 in schools and universities, especially in practical applications such as demonstrating the internal systems of a larger system or device. The great aspect of them is that you can see flaws and imperfections that may not be able to be seen by a prior external visual inspection. PCE's borescopes can be used for industrial or educational applications. There are several types of cables that can be used with our Borescopes providing various uses such as rigid or semi-rigid cables, these can be used in systems such as air conditioning systems where the probe needs to be rigid instead of flexible allowing for inspection of all aspects of the system where a flexible cable would not reach. An alternative to the rigid and flexible borescopes is borescopes are fitted with an articulated head that is rigid for the last few millimeters of the cable in order so that once the cable is in the correct place, such as around a U-bend in a piping system, the end of the cable can be articulated to any angle. This is extremely useful in order to inspect the whatever is being observed at any possible angle including looking at the interior walls of whatever it is, be it cavity walls, pharmaceutical tubes or in fact anything you could possibly stick it in, except the human body of course!
We also provide flexible cable borescopes for working through a system of pipes or a complex pathway which do not allow for a rigid cable to be used. Our higher end borescopes have a 'visual grid' on their screens which allows for the system to easily evaluate distances that are seen on the display of the device, a good example of how this can be used is in gun making where it can be used to verify the size of the bore of a rifle or shotgun. We can provide lots of additional equipment for those borescopes.
For example, can get an adaptor to connect the borescope to a camera which will allow you to take pictures of what the borescope is able to view. This is only one additional product that can be used in conjuction with these borescopes, there is also other equipment available such tripods and various stands. If you have have any questions about our borescopes or need some consulting advice then please call us or if you can't find the borescopes you are looking for, please contact us and we will help you find the best solution to suit your needs, our contact number is:

UK customers +44(0) 23 809 870 30 /

US customers (561) 320-9162 and our technical staff and engineers will advise you regarding our measuring instruments. Our engineers and technicians will be happy to help you with the borescopes, and of course, with the other products in the field of regulation and control, and scales and balances.
Here you can see borescopes from these companies:







Technical specifications for our Video borescopes can be found at the following links:
- PCE-RVE 30 Borescopes
(for craft and development, capture of pictures and videos, diameter of only 3,9 mm)


- PCE-VE 1000 Borescopes
(various attachable cables, image and video recording, 7 " LCD, images rotatable in steps of 90 °, digital zoom)


- Deluxe-Kit HU23060 Borescopes
(with Switch Probe 2 in 1, 2 m cable lenght, LCD display, forward view and a side view, Ø 4,9 mm)


- PCE-VE 350N Borescopes
(Endoscops with 1800 mm long cable, Ø 6,0 mm / 2-way articulation, 512 MB memory)


- Findoo WiFi Borescopes
(Boroscopes for Android- and iOS- smartphones and –tablets, for investigation, Ø 9,0 mm, 1 m length)


- Borescopes C2
(to detect surface flaws, 3,5 " LCD, incl. Image and Video Ø 10 mm)


- PCE-VE 360N Borescopes
(Endoscopes with 1000 mm long cable, Ø 3,9 mm, 512 MB memory)


- PCE-VE 500 Borescopes
(Wireless borescope, LED illumination, memory, flexible cable length 2000 mm and Ø 5,5 mm)


- Borescopes V55CCD3519
(Rigid Video Scope, length: 205mm, Resolution (pixels): 1028 x 1024 / Ø 1,9 mm)

- Borescopes V55CCD3527
(Rigid Video Scope, Illumination LED light adjustable Ø 2,7 mm)
- Borescopes V55CCD3550
(Rigid Video Scope, you can see image picture from a 3.5" LCD screen / Ø 5 mm)

- Borescopes PCE-VE 380N
(Endoscops with 22 m cable, Probe Ø 28 mm with LEDs, front view, head with 8 LED´s)


- Wi-Fi Borescopes PCE-DE 30
(with a Wi-Fi function, for iOS, Android and Windows, Ø 8,5 mm, cable length: 1 m)


- VIS 200 / 250 Borescopes
(for the analysis of damages in tubes, pipes or lines, miniature camera head of Ø 26 mm)

- VIS 300 / 350 Borescopes
(Video endoscopes with 7 "colour monitor, 360º rotary head and 180º rotating head, Ø 40 mm)


Borescopes are very easy to use and can be handled by technicians with limited experience.
Almost all of the Inspection cameras come with a 45° mirror attachment to increase the field of vision. You can also order a magnet attachment to locate magnetic objects, such as a screw, and extract them.




General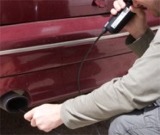 information about fibroscopes: Inspection cameras have a cylindrical form that contains a light and a lens that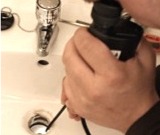 magnifies the image from the optic fibres to allow visualisation of the area being analysed to determine the fault. They are traditionally used for diagnostics in the sector of medicine. Today, they are used in the industrial sector, for cavities with limited accessibility (injection moulds, machinery, motors, casting, etc). They are the perfect assistant for those diagnostics that have to be done for material that lies underneath something and the technician is unable to see what is behind such a casting. Our digital fiberscopes are flexible and return to their original form after they are extracted. For documentation we offer these video fiberscopes with camera and video adaptors. The two images above show two examples of the industrial cameras at work. To the right you can see that an automobile's exhaust pipe is being inspected for oxidation, obstructions and fractures. To the left it is used to inspect the plumbing of a sink for obstructions.
These measuring devices offer new perspectives for viewing the inside of all kinds of different machinery. Because of the flexible fibre optic cables and little weight enclosure, these instruments can locate problems, conflicts and issues of the system or machine very easy and quick and trustworthy. When you have one of those tools, it is not necessary anymore to open up a whole machine. This way it is also very easy to have preventative maintenance on a machine. That are reasons why these devices are used in most sectors of the manufacturing industry.  
A flexible borescope includes optical fibers which separate the pictures into small pixels. Flexible borescopes often suffer from pixelation and pixel crosstalk due to the fiber image guide. Image quality varies widely among different models of flexible borescopes depending on the number of fibers and construction used in the fiber image guide. Here lies difference between cheap observation gadgets and high-end products. For flexible borescopes the range of articulation, field of view and angles of view of the objective lens are also very important. Most of our borescopes are operated with a battery and this means that they don't have to be used as stationary tools.

The Video shows one of the PCEs borescopes in practical use.
A video borescope or "inspection camera" is similar to the flexible borescope but uses a miniature video camera at the end of the flexible tube. The end of the insertion tube includes a light which makes it possible to capture video or still images deep within equipment, engines and other dark spaces. 
Attention: Our broscopes are not to be used in the field of medicine. They can only be used for industrial applications.