Vibration Meters
Vibration meters are applied in maintenance, manufacturing and production as well as in the laboratory. Our vibration meters are used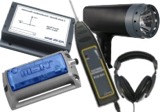 in many installations and machines as well as in the development of products, such as tools or components, to measure vibrations and oscillations. Its measurements provide the following parameters: vibration acceleration, vibration velocity and vibration displacement. In this way the vibration is recorded with great precision. The devices are usually portable and their readings can be saved partly and retrieved for later use. Additionally, all devices can be provided with ISO 9000 certification, either with the first order or with it's annual recalibration as stated in the ISO manual. Vibration meters are an irreplaceable tool for the professional on the job. All of our vibration meters can carry out the most demanding tasks in every situation regardless of the technical problem that you might have. If your situation finds you in a confined space we have at our disposal vibration meters with very small dimensions. If you can't find the vibration meters you are looking for, please contact us and we will help you find the best solution to suit your needs by calling our offices on:

UK customers +44(0) 23 809 870 30 /

US customers (561) 320-9162 and our technical staff will advise you regarding our measuring instruments. Our engineers and technicians will be happy to help you with the vibration meters, and of course, with the other products in the field of regulation and control, and scales and balances.
Here you can see vibration meters from these companies:







You will find technical specifications for Vibration Meters at the following links:
- PCE-VT 1100 Vibration Meters
(Vibration meters for the preventative maintenance of production machinery)

- PCE-VT 2700 Vibration Meters
(To quickly test on site to make simple comparative measurements of vibration)


- PCE-VM 31 Vibration Meters
(vibrations of hand-arm- and full-body, for acceleration, speed and distance, stores up to 10000 measurements)


- PCE-VT 2800 Vibration Meters
(for acceleration, oscillation speed and shift, integrated data logger)


- PCE-VT 204 Vibration Meters
(Vibration meters for the inspection of motors, mechanisms and ball bearings)


- PCE-VD 3 Vibration Meters
(Vibration meters data loggers with a built-in three-axis acceleration sensor)


- PCE-VMS 504 Vibration Meters
(wireless monitoring of machines, detecting oscillation, 100 m range in industrial surrounding)


- PCE-VM 3D Vibration Meters
(vibration meter with 0.25 Hz resolution, RS-232 interface, higher frequency range)


- Vib Meter 320 Vibration Meters
(vibration measurement, data storing and graphic display of the data, single-hand navigation)


- PCE-MSR 165 series Vibration Meters
(Vibration meters for acceleration, humidity, pressure, temperature and light data logger / 69g weight)
- PCE-VDL series Vibration Meters
(Vibration meters, measuring vibrations and oscillations, with internal memory)


- PCE-MSR 145 series Vibration Meters
(Vibration meters with internal sensor for humidity, pressure, vibration, position)


- PCE-VM 500 Vibration Meters
( 4-channel vibration data logger, speed and expansion measurement, storage at SD memory card)


- PCE-S 41 Vibration Meters
(Vibration meters or stethoscopes used for inspection and maintenance)


- PCE-LC 50 Vibration Meters
(Vibration meters for monitoring and process control machinery lubrication)


- PCE-TU 3 Vibration Meters
(wave aligner, optical alignment, soft foot featured, 2 laser probes, USB, Bluetooth)


- Vibration Meters for stationary use
(Vibration meters for the connection to evaluation units, standard output signal)


The PCE-VT 2000, VIB 1, VC, VM-30 y VM-120 vibration meters are used primarily to determine vibration in machines and installations related to vibration acceleration, vibration velocity and vibration displacement. With the help of these vibration meters, the practical worker will be able to quickly determine the current state of the machine and the cause of the vibrations, to make the necessary adjustments and to assess the newly discovered conditions afterwards. The PCE-VT 3000 vibration meter can be used in the same way, but it also has a function to analyse the Fast Fourier Transform (FFT) and display if any specific frequencies are occuring within the vibrations. For this reason, they are used especially for investigation, in the development of machines and installations or to take measurements over a period of time in a test environment.

The above image shows a part of the parameters taken and analysed by the PCE-VT 3000. It can also determine and analyse the 'harmonics' with ease and precision.
The upper image shows a fragment of the diverse parameters registered and analysed with the PCE-VT 3000 vibr

ation meter as an analysis of frequency. 'Harmonics' can also be determined and analysed easily and exactly. Vibration meters are normally used for the control of machines rotational axis so the technician will be able to determine and valorate the development of an axis with accuracy. In case of a critical state, the axis may be exchanged during a scheduled standstill of the machine. It is also possible to perform an acoustic valuation with a sound meter (with analysis of frequency). Critical frequencies which can cause damage or disturbing noise level may be detected. Most of our vibration meters can be calibrated according to the ISO standard, hence you can include these vibration meters in your set of internal quality tools to calibrate them regularly to get constant accuracy. In the Calibration Certificate the company details or personal details are included.
If you wish to view or print a section of our vibration meters in our catalogue, click the PDF symbol.