Laboratory Water Baths
Laboratory water baths are used in biological and chemical laboratories, where they are used to treat samples. Many laboratory baths are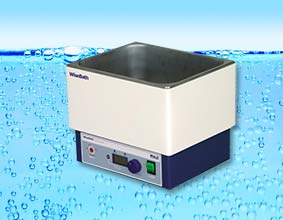 equipped with an integrated, electronic controller, which enables the operator to control and navigate the laboratory water baths in a very easy way. Only a few keys assure a well arranged and self-explaining device that can be handled via a rotary switch. That is why the laboratory water bath is free from most operating errors. Most of the laboratory water baths are already equipped with a timer and data storage function, allowing a comfortable operation. Since in most laboratories avoiding an unintended shift of the surrounding conditions for the samples has the highest priority, these laboratory equipments feature a separate safety circuit to prevent those scenarios, because it prohibits a too high tempering of the bath and assures that the valuable samples are not at risk of damage nor destruction at any time. That presents an additional advantage, since the samples do no longer require a continuous supervision, and can be left on their own by setting the thresholds prior to that . But it should be also considered that the filling mediums with a very low boiling point should not be filled into the laboratory water baths without any supervision. In case you can't find the laboratory bath you are looking for, please contact us on: +44 (0)2380 987030 and our technical staff will advise you regarding our products. Our engineers and technicians will be happy to help you with the Laboratory Water Baths, and of course, with the other products in the field of regulation and control, and scales and balances.
On this page you will find laboratory water baths from the following companies:

- Laboratory Water Baths WB-6
(Universal baths with a high life-time and a robust construction for filling levels up to 6 liters)
- Laboratory Water Baths WB-11
(Adjustable laboratory water baths with integrated data logger to preset values, filling level: 11 liters)


- Laboratory Water Baths WB-22
(Universal water bath with integrated data logger, temperature thresholds, overvoltage arrester, 22 liters)
Further information regarding Laboratory Water Baths

Laboratory Water baths are provided with a range of different special functions and features. These might be for example different volumes to fill or special functions like the threshold alarm that goes off as soon as the temperature inside the laboratory water bath comes near the preset thresholds as soon to overstep those. That special features are designed for a better functionality of the device, since we know, that especially whilst working with laboratory water baths, its is very sensitive to store those samples in laboratories and to heat them appropriately in a controlled environment. Therefore every little deviation from the preset temperature would be suboptimal and it would have fatale consequences, especially in a field so sensitive as laboratory research is. Thus some of these laboratory water baths also feature a block function that prohibits an unintended alternation of previously adjusted settings and operational parameters. For devices of that price level it should be also assured that the life-time of the device is appropriate to its price. Thus almost all of the laboratory water baths' bins are made of stainless steel and assure a long life-time. Furthermore it should be considered that in laboratories chemicals are handled at a daily bases and are a common laboratorial substance. Thus the laboratory water baths should be designed that way to be resistant to an eventual impact of those chemicals and should not be affected nor destroyed by any chemical substance. Also, cleaning those laboratory water baths becomes much easier due to the use of stainless steel.