Function Generators
Here you can find our function generators. These digital function generators are used in those places where an accurate frequency is needed. Function generators provide a frequency from 1 Hz to 15 MHz. The resolution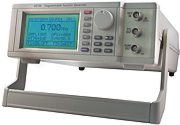 varies according to the range from 1 Hz to 10 kHz. Different waveforms can be selected either a sinusoidal, triangular or square wave these waves can also be converted into line signals or pulse shapes. These factors allow the use of function generators in laboratories, workshops and in the industrial sector. Apart from being used in time processes control, function generators can be used in the control of amplifiers. By means of the frequency sweep function it is possible to run with a fixed interval the frequency range to measure the frequency response of the amplifier. Function generators can be adjusted to different waveforms parameters, as for instance, amplitude, symmetry and offset. Here you will find our function generators. Our technicians and engineers are available to help you to assess about the function generators that best suits your needs as well as about the rest of our measuring instruments at the following telephone:

UK customers +44(0) 23 809 870 30 /

US customers (561) 320-9162.
Here you can see function generators from these companies:


Technical information about our function generators can be found at the following links: