Combustion Meters
At PCE Instruments you will find combustion gas analysers to be used for professionals for both daily use and business.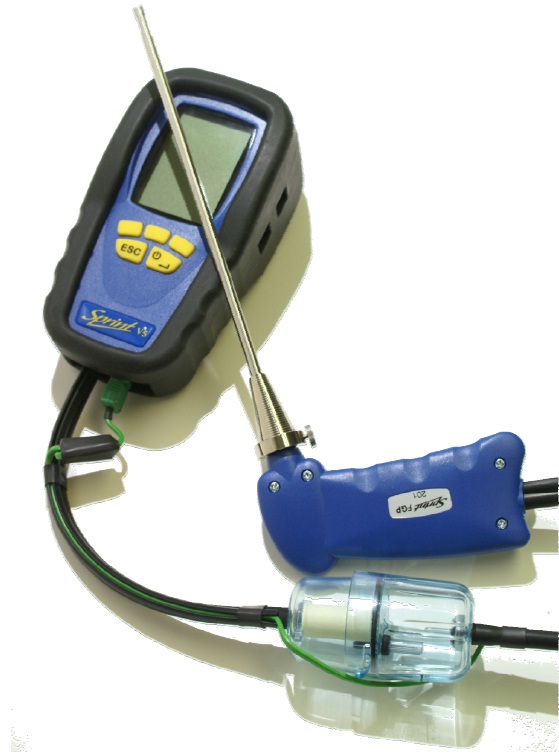 Here you will find combustion gas analysers to control and test combustion by means of the Sprint V model. The application of combustion gas analysers is based on a gas sampling which flows through a chimney or a funnel. A sample of gas is taken through a hole to obtain the concentration of the components by means of electric analysers provided with electro-chemical sensors. Combustion meters also have a thermocouple probe available to measure gas temperature as well as a memory program which displays combustion efficiency in relation to the gas analysis, gas temperature and ambient temperature. Combustion meters are provided with a pump inlet line (produced by a built-in micro-bomb) to take gas samples, as well as with a calculation program in their internal memory with the most common fuel elements composition, so the results are immediately displayed once the proper fuel has been selected. Combustion meters come with a display and a printer to show the following results (function of every commercial product):
• CO2: % in volume
• O2 : % in volume
• CO: parts per million, ppm. (i.e. 2.000 ppm = 0,2%)
• Excess air: %
• Combustion efficiency: %
All the combustion meters meet both European and International standards. Combustion meters can be additionally calibrated and certificated. An annual calibration or maintenance can be carried out. Our engineers and technicians will help you to find the combustion meters that best suit your needs by calling to our offices:

UK customers +44(0) 23 809 870 30 /

US customers (561) 320-9162 and also will advise you regarding the rest of measuring instruments available in our web site (measuring instruments).
Here you can see combustion meters from this company:

Technical specifications about combustion meters can be found at the following links: