Signal Converters
On our websiter you can find three different kinds of signal converters. On one hand, there are signal converters which transform an input frequency range into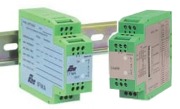 an analog signal. These signal converters are very easy to program and control. Other signal converters can transform analog input signals into analog normalised signals with galvanic insulation. Due to the fact that these signal converters can be freely graduated, they offer endless possibilities and 110 combinations can be selected by means of a DIP switch. Other kinds of signal converters can be connected to devices with RS-232, RS-485 or RS-422 protocols. By means of the galvanic insulation, damages produced by peak voltages to other devices connected to signal converters can be avoided as there is no direct contact. If you can't find the signal converter you are looking for, please contact us and we will help you find the best solution to suit your needs by calling our offices on:

UK customers +44(0) 23 809 870 30 /

US customers (561) 320-9162 and our technical staff will advise you regarding our measuring instruments. Our engineers and technicians will be happy to help you with the signal converters, and of course, with the other products in the field of regulation and control, and scales and balances.
Here you can see signal converters from these companies:


Technical information about Signal Converters can be found at the following links:
- IFMA series Signal Converters: frequency / analog signal
(Signal converters which transform a frequency (input) into a normalised analog signal)


- IAMA series Signal Converters: current / voltage


(110 combinations transform analog input signals into normalised signals)


- PCE-P17PT Signal Converters
(with measuring range of 25 mm ±0.5 mm and a mounting width of 6.2 mm)


- PCE-P17I Signal Converters
(with an Input signal of 0 to 10 V and a mounting width of 6.2 mm)


- PCE-P17U Signal Converters
(with an Input signal of 0 to 10 V and a mounting width of 6.2 mm)


- PCE-P17TC Signal Converters
(with a Range of -100 to +1370 °C and a mounting width of 6.2 mm)

- PCE-P30U Signal Converters
(for a variety of input signals, various outputs, alarm, data storage)


- ICM5 series protocol converters: Signal Converters
(Signal converters with protocol converters from RS-232 to RS-485 or RS-422)


If you wish to view or print a selection of signal converters from our printed catalogue, click the PDF symbol