OBD Scanner PCE-OBD 2
OBD scanner for all OBD II vehicles of current manufacturers / read-out of error codes and live data / information can be displayed as column of figures or graphically / large graphic display / internal error code table / protocols such as CAN, VPM, PWM, ISO9141 and KW2000
OBD Scanner PCE-OBD 2 is a high quality scanner for many common vehicle manufacturers. This professional OBD scanner does not need a laptop. Only the provided diagnostic cable is required to connect the device. Therefore the readout of the fault memory is very simple. The read-out data is displayed directly on the LCD screen. As there are error code tables already deposited in the OBD Scanner, many errors are displayed as plain text in English. This feature combined with the ease of the six buttons handling makes the OBD Scanner suitable even for laymen. This readout device helps you to diagnose vehicle faults. Examine your car yourself just before a garage visit or inspection to prevent surprises. Of course the high-quality OBD scanner can also be used as a tool in professional garages. This tester can read live data during operation, which can be displayed next to the error codes on the large 160 x 105 pixel graphic display of the OBD Scanner, either as columns of numbers or graphically. If necessary, the determined data can be read out through PC connection. You can make sure that all relevant data are displayed by switching between the various sensor data during the live display, for example: the temperature of the intake air, air mass/air flow, engine speed, coolant temperature, vehicle speed and many more. Depending on the used vehicle, other live data will be provided. The live data feature is also customisable. This means you can specify exactly which data to be displayed. The OBD Scanner PCE-OBD 2 is suitable for all vehicles since 1996 with OBD II/EOBDJOBD. The OBD Scanner reads all diagnostic error codes (general and manufacturer specific codes). The OBD Scanner PCE-OBD 2 was specifically designed for OBD2 vehicles. It is used for rapid analysis of the fault memory of control devices, which are used in all OBD II vehicles of common manufacturers. If you have any questions about these products, please contact us:

UK customers +44(0) 23 809 870 30 /

US customers +1-410-387-7703. An overview of all automotive measuring tools can be found here: Automotive measuring tools Our technicians and engineers will gladly give you advice on this OBD Scanner and all other products in the field of measuring instruments, regulation and control and scales.
- Read out of live data and error codes
- Reads general OBD codes as well as
manufacturer specific codes (P0,
P2, P3, U0, U1), with error code interpretation
- Simple handling and easy menu navigation
- Internal error code table
- Resetting the fault memory
- Graphical display of gradients, such as
rotation speed during live data capture
- Reads out the chassis numbers of all
vehicles since 2002, which support mode 9
- Extensive information about
all major sensors of the motor control
- Live recording of data and internal
playback via display
- Freeze-frame information
- Large backlit LCD display, 160 x 105 pixels,
adjustable contrast
- Data output to the PC via USB interface
- Plain English error output
- Power supply through the vehicle's
OBD socket, stand alone on
9 V battery and via USB port
- Supported vehicles:
U.S. vehicles since 1996 with OBD-2
European and Asian vehicles
since 2001 with OBD-2 (diesel since 2004)
- Protocols: KW 2000, CAN, PWM, VPW,
ISO9141
- Error code updates for free download
1 x OBD Scanner PCE-OBD 2,
1 x OBD2 connection cable,
1 x data cable,
1 x 9 V battery,
1 x manual
Here you can get software and error code updates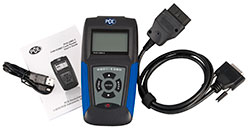 Contact:
PCE Instruments UK Limited
Unit 11 Southpoint Business Park
Ensign Way, Southampton
United Kingdom, SO31 4RF
Phone: +44(0) 23 809 870 30
Fax: +44(0) 23 809 870 39
Contact:
PCE Americas Inc.
1201 Jupiter Park Drive, Suite 8
Jupiter 33458 FL
USA
Phone: +1-410-387-7703
Fax: +1-410-387-7714