Logic modules
Logic modules are programmable controllers which allow machines to perform processes without human intervention. Therefore, logic modules can be considered as intelligent controllers.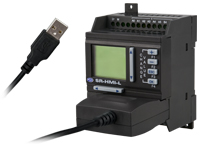 Logic modules are mainly used in the industry where complex installations operate with many different automated processes. However, thanks to modern and affordable logic modules, nowadays it is possible to use them for less important processes and even for private use. These reduced logic modules are able to automate for example, controllers for windows, awnings or small installations in the continuous transport. Some applications, which previously required diverse activators and timers as well as important connection works, can be now performed with logic modules. Logic modules available at PCE Instruments have 8 input channels (six of them can be used as analogue inputs) 4 outputs (transistor) as well as a real time clock. Logic modules can be additionally connected to LCD display and/or other logic modules. Logic modules are programmed through the Super CAD software which simultaneously performs a simulation of the programmed parameters. If you do not find the logic module you are looking for, contact us:

UK customers +44(0) 23 809 870 30 /

US customers (561) 320-9162 and our technical staff will be pleased to help you find the logic module that best suits your needs as well as the rest of measuring instruments and scales available at PCE-Instruments.
Technical information about logic modules can be found at the following links:
Logic modules are small programmable controllers (PLC)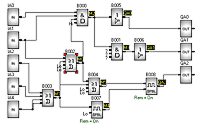 which can be used as small controllers. Unlike conventional switches, in which switching functions are determined by the connections of threads, logic modules record and program such functions in their internal memory. Since the memory can be cleared and overtyped, logic modules are very flexible devices. Logic modules can be directly programmed in the device or through the software for more important programming processes. The program consists of different interconnected single components. Apart from the logic connection between signals (ANDOR, NOT, etc), there are different logic module types for diverse functions such as counters. Besides, analogue signals can be processed by means of the corresponding Hardware.