Stroboscope - Hi-Lighter
handheld stroboscope with high illumination power
The stroboscope - Hi-Lighter led by a microprocessor has been specially designed to measure oscillations and to observe movements. Thanks to the light high-energy of the stroboscope, you can perform inspections of large areas. In this way, for example, errors can be detected in conveyors for training material, paper and paperboard suction machine mechanisms, mills damage or errors in the adjustment of the printing machines. The flash rate is set via a control knob and it is displayed on the screen of the stroboscope. The strabsocope can be maintained active for long periods of time. The stroboscope has an input and an output trigger that enable trigger synchronization. The setting of the number of revollutions is dynamic. The faster the spin, the faster the the value will change . For dark or reflective areas, you can use the strobe to 35%, 50% and 75% of full performance. On this link you will find other handheld stroboscope with lower illumination power. Here in this link you can find an overview of any type of stroboscope that you may need.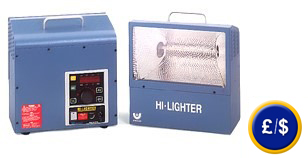 Technical specifications
Display:

5 position LED

FPS/Hz

flash / second (Hz)

FPM/RPM

rpm (flash / min)

TACH

tachometer with an external sensor (if the device does not radiate); (the sensor is not included in the delivery)

EXT.

External trigger

Use:

flat keyboard and control knob

Frequency range

estroboscope

30,0...6.000,00min-1 (0,5...100Hz)
thre are other models with 4.800, 12.000 y 24.000Hz

accuracy

±1°

Flash duration

20µs

Accuracy

0,01% of the indicated value

Lightness

more than 4000 lux at a distance of 1,2m

Flash valve

Xenongas valve

Trigger input

allows an external strobe graduation

Salida trigger

allows synchronization with other devices

Sensor power supply

8 VDC, max.4mA

Power supply

90-250VAC, 50/60Hz

Housing

carcasa de metal

Dimensions

330 x 419 x 177mm

Operating temperature

0...+40°C (built-in thermostat protector)

Weight

6,4kg