Baby balances are a device for measurement and determination of the infant's weight, controlling both your baby's evolution and the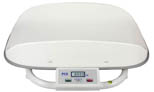 amount of mother's milk the baby has consumed. The normal weight range of baby balances is from 0 kg up to15 kg. Baby balances should be in every house. The regular use of baby balances allows to control the infant's weight in case of overweight or underweight. Many years ago, baby balances were spring balances which indicated the infant's weight by means of a spring mechanism. Nowadays, most of the baby balances are digital and electronically determine the weight and show it on a digital display. Digital baby balances are normally more accurate while determining baby's weight. Besides, the digital display allows easier reading of weight values than mechanical balances.
Our engineers will help you assess the balances you might need. Contact us:

UK customers +44(0) 23 809 870 30 /

US customers (561) 320-9162. Our engineers and technicians will be happy to assist you with the baby balances, and of course, with the other products in the field of regulation and control, and measuring instruments.

Technical specifications of our Baby Balances can be found at the following links: