- Laboratory Stirrers PCE-MSR 300
(up to 2 liters stirring volume, up to 1,250 rpm, heater +20 ... +300 °C)


- Laboratory Stirrers C-MAG HS 4
(max. 5 liters, 100 - 1,500 rpm, heater +50 ... +500 °C, digital display)


- Laboratory Stirrers C-MAG HS 4 digital
(up to max. 5 liters, 100 - 1,500 rpm, heater +50 ... +500 °C, digital display)


- Laboratory Stirrers RH basic 2
(stirring volume up to max. 10 liters, 100 - 2,000 rpm, heater up to +320 °C)


- Laboratory Stirrers C-MAG HS 7
(up to max. 10 liters, 100 - 1,500 rpm, heater +50 ... +500 °C, digital display)

- Laboratory Stirrers C-MAG HS 7 digital
(up to max. 10 liters, 100 - 1,500 rpm, heater +50 ... +500 °C, digital display)


- Laboratory Stirrers C-MAG HS 10
( up to max. 15 liters, 100 - 1,500 rpm, heater +50 ... +500 °C, digital display)


- Laboratory Stirrers C-MAG HS 10
(up to max. 15 liters, 100 - 1,500 rpm, heater +50 ... +500 °C, digital display)


- Laboratory Stirrers MR Hei-Standard


(up to max. 20 liters, stirring plate Ř 145 mm, 100 - 1,400 rpm, heater up to +300 °C )


- Laboratory Stirrers MR Hei-Tec
(stirring volume up to max. 20 liters, 100 - 1,400 rpm, heater up to +300 °C, digital display)

- Laboratory Stirrers MR Hei-End
(up to max. 20 liters, 100-1,400 rpm, heater up to +300 °C, display, special features)
- Laboratory Stirrers RCT basic
(up to max. 20 liters, 50 - 1,500 rpm, heater up to +310 °C, digital display)


- Laboratory Stirrers RET basic
(up to max. 20 liters, 50 - 1,700 rpm, heater up to +340 °C, digital display)


- Laboratory Stirrers RET control/t
(up to max. 20 liters, 0 . 1,200 rpm, heater up to +340 °C, digital display)

- Laboratory Stirrers / multiple stirrer plates RT 5 power


(with 5 stirring plates, each 0.4 liters, 100 - 1,400 rpm, heater up to +120 °C)


- Laboratory Stirrers / multiple stirrer plates RT 10 power
(with 10 stirring plates, each 0.4 liters, 100 - 1,400 rpm, heater up to +120 °C)


- Laboratory Stirrers / multiple stirrer plates RT 15 power
(with 15 stirring plates, each 0.4 liters, 100 - 1,400 rpm, heater up to +120 °C)


- Laboratory Stirrers RZR 2020
(stepless revolution range, 2 - level gear, easy handling)


- Loboratory Stirrers RZR 2021
(agitator blade adjustable for height, mechanical agitator, 27 Watt engine power)


- Laboratory Stirrers RZR 2020 (package)
(firm stand, mechanical agitator, incl. propeller mixer)


- Laboratory Stirrers RZR 2051 Control
(digital display, 50 Watt engine power, electronic agitator)


- Laboratory Stirrers RZR 2102 Control
(for higher viscosity, with integrated display, 100 Watt engine power)
- Laboratory Stirrers RZR 2102 Control Z
(100 Watt engine power, with integrated display, electrical agitator)


- Laboratory Stirrers PX-SR 90 D
(digital regulation of revolution speed, for mean viscosity range up to 25 l, over-heat protector)


- Laboratory Stirrers RZR 1
(stepless revolution range, agitator adjustable for height, simple handling)


- Laboratory Stirrers Polymix PX 50-SR E
(stepless revolution range, up to max. 1,500 rpm, large variety of additional equipment)


Information about laboratory stirrers: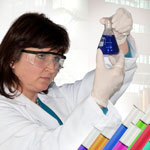 The advantage of directly operateable laboratory stirrers lies in their self-explaining and simple operation. The mixing speed of the laboratory stirrers can be regulated by either a potentiometer or keys. The required controlling electric system is implemented compact and small into the enclosure coat. Simple stirring plates are a easy to handle alternative to the technically demanding, remote controlled laboratory stirrers.
Remote controlled laboratory stirrers are mechanically, physically and chemically robust and resistant. The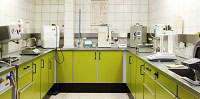 extravagant high reliability of the laboratory stirrers is caused by shifting the system controlling electricity into an extra enclosure coat. This allows applying the laboratory stirrers for a constant time in higher temperatures, even straight in water baths (up to +95 °C) or in air (up to +200 °C), or even to expose them to aggressive damps as well as gas. Not to mention the simple integration of the remote controlled stirring elements as well as the option of an ergonomic handling of e.g. magnetic stirrers in a stationary mixer- format. The controlling elements implement recent technology with a number of functions, that help facilitating the daily application within work procedures.
Our assortment covers various additional equipment for the different laboratory stirrers. Thus there is a wide range of designs and sized of magnetic stir bars for each laboratory stirrer to select from. Only with the right magnetic stir bar the laboratory stirrers function to their fullest potential. Some of the laboratory stirrers are equipped with heaters, and can be controlled via external temperature probes. Therefore the laboratory stirrer is to connect with a PT-100 temperature probe, and a stand to integrate the sensor in and hold it into the liquid that needs to be measured. The advantage of such a temperature monitoring is that in contrast to an internal temperature sensor, these temperature probes prove a higher accuracy and short response time due to measuring directly at the medium. Further equipment for the laboratory stirrers with heaters are the top pieces, that transmit the heat of the heating plates quicker and more effective to the medium. In case you are looking for more equipment, you will surely find them in our assortment. Our team will gladly help you selecting the right laboratory stirrers and relevant additional equipment.
If you wish to view or print a selection of laboratory stirrers from our catalogue, click the PDF symbol.