Power Supply
The power supplys have been designed for use in the industrial sector, laboratories and in telecomunications. The power suppliers voltage is to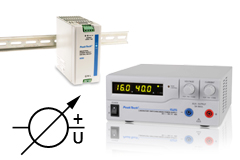 a specified lever to avoid interrupting the test circuits. The rotary potentiometer that regulates these parameters is equipped with a double function. This means that the regulators of the Power Suppliers has a coarse and a fine adjustment. This will facilitate an accurate adjustment of the current and the voltage at the Power Suppliers. Some power suppliers for use in laboratories are also equipped with a preset set-up function-in. This special feature of the power suppliers allows the user to retrieve the current and voltage values frequently used in the laboratory with a simple push of buttons. Power suppliers can be placed on any laboratory bench due to their small size. The test circuit is connected to the power suppliers. The desktop power suppliers are refrigerated actively by a silent fan, hence offering durability. Thanks to their design, the power suppliers are very light and very easy to transport. In addition to the power suppliers for laboratories and workshops, there are other power suppliers for mounting on DIN rails. These power suppliers are designed for fixed mounting on electrical cabinets and switchboards. They have their field of use in regulation and control. These power suppliers are not adjustable, so they have a fixed voltage and current output . These power suppliers stand out for their long term high stability, their voltage outputs and their current constants. The connection is produced by screw terminals, for example to a measurement transducer. If you have questions about the power suppliers, you can contact us at:

UK customers +44(0) 23 809 870 30 /

US customers (561) 320-9162 . Our technicians and engineers will be happy to advise you on these and other power suppliers, of course, and also on the other products of our range (regulation and control, scales and balances.
Here you can see power suppliers from these companies:


You will find the technical specifications for our Power Suppliers on the following links:
Power Suppliers
- NET-300 Power Suppliers
(Mains component with 3 ... 12 V variable voltage output , . 300 mA max, ideal for most meters)
- NET-500 Power Suppliers
(Mains component ideal for switch, 3 ... 12 V output voltage , . 500 mA max)
Laboratory Power Suppliers
- PKT-6095 Power Suppliers
(Compact device with 100 W power, adjustable up to 20 V / 5 A output, large LCD display)
- PKT-1540 Power Suppliers
(Stabilised power suppliers, 3 ... 15 V adjustable, 40 A max output current)
- PKT-6125 Power Suppliers
(Stabilized power suppliers, AC / DC adjustable , 1 ... 15 V / 5 A)
- PKT-6130 Power Suppliers
(Stabilised power supplies with DC and AC output , 1 ... 15 V adjustable, . 10 A max)
Power Suppliers for fixed mounting
- PKT-6090 Power suppliers for DIN rails
(Fixed installation, 12 V / 10 A output , ideal for most instruments of regulation and control)


The power suppliers are power modules that provide current and voltage power to other groups. The power suppliers regulate the current supplied by the electric company fixed at 230 V at a lower level selected by the user. A common voltage level offered by the power suppliers is for example 12 V. Especially in laboratories and workshops, this voltage is often used because this voltage avoid personal injury. The power suppliers have a range of current and fixed or adjustable voltage. Power suppliers are divided into two classes. We must distinguish between conventional power suppliers with large transformers and voltage regulators, and switching power suppliers that have a much smaller transformer and the voltage is regulated electronically. The following explains in more detail the two kinds of power suppliers.
Switching Power Suppliers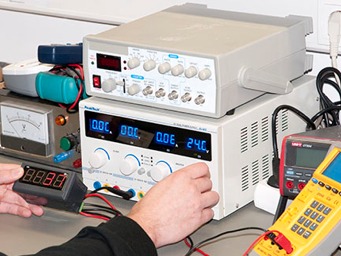 Switching power suppliers are preferred to transformers due to its lightweight construction. They are usually built in main adapters and adapters for your computer. Due to the low-load power, less than 1 W, and high performance, switching power suppliers are more innovative than the conventional ones.
Conventional Power Supplies / transformers
These teams are usually composed of a transformer, a rectifier, a filter and a voltage regulator. Because of this complex structure the degree of performance is well below 50%. Today's conventional power supplies with a heavy transformer are rarely used and only for special applications. In transformers, different voltages are achieved by switching the individual transformer windings. A major disadvantage of power transformers is that the no-load voltage is usually higher than the rated voltage.
The laboratory power suppliers can incorporate both types. Power suppliers for laboratory use may be equipped with different voltage and current limits. So these have almost any power range. The laboratory power suppliers are always adjustable. Normally the voltage power supply is set by rotating controls or knobs . Modern power suppliers, which are used in electrical workshops, teaching or the services sector, additionally have a voltage adjustable output, also an adjustable current output. This ensures that the user has a source of constant voltage and current.
If you wish to print a selection of power suppliers from our printed catalogue, click the PDF symbol