Telemaintenance Modules
Telemaintenance means that machines, facilities, networks or systems can be accessed from another separate location. The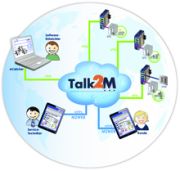 motive of such a telemaintenace is the reduction of additional work hours and travel time and a minimization of the down time. Due to telemaintenace modules all the maintenance and service work at machines, facilities and systems can be realized without actually being at their location. Furthermore in case of an error, or for the initiation the technician can easily consult external experts without having them come to the location. A telemaintenance can be either performed via landline (analogue or ISDN), mobile service (GPRS, EDGE, UMTS, HSPA) or the internet (DSL, LAN, TV-cable). In addition to those connection lines there is only a common interface (e.g. RS232, RS485, MPI or Profibus) required to perform telemaintenance. You can also use our signal converters, in order to integrate processor and temperature signals into the telemaintenance system as well. No matter, what you expect from your telemaintenance system, with the accordant sensors, data loggers, converters and these telemaintenance modules we can design an ideally coordinated complete system for you. Due to the extendible interfaces the telemaintenance modules can be adjusted to any change in your facilities with a reliable connection. If you don't find the telemaintenance modules you are looking for, please contact us and we will help you find the best solution to suit your requirements by calling our offices on:

UK customers +44(0) 23 809 870 30 /

US customers (561) 320-9162 and our technical staff will advise you regarding our measuring instruments. Our engineers and technicians will be happy to help you with the telemaintenance modues, and of course, with the other products in the field of regulation and control, and scales and balances.
Here you can see telemaintenance modules from these companies:


You can view the technical specifications for our telemaintenance modules at the following links: