Tightness Testers for Textiles
Out tightness testers measure the winding tightness on windings of different textile fibers. Thus the tightness testers for textiles are applied in areas of processing and quality assurance. Most of the models are designed to place onto the windings in order to perform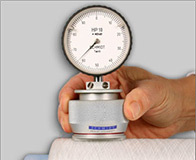 the measurement of the tightness. Since the tightness testers are fully mobile devices, they can be applied on a variety of locations so that they do not have to be applied as stationary devices for a certain winding machine. Therefore there are variations of the tightness testers for textiles, each of which measure a separate characteristic of the textiles. Since textiles show alternating characteristics during winding, while distinguishing a tight winding on a reel from a lose winding with different materials, e.g. chemical fiber, natural fiber or thick yarn. For each of the measurements of the textile tightness the tightness testers for textile facilitate separate indenters, which especially alternate in their caliber. We offer some tightness testers for textile for different application areas. If you can't find the tightness testers for textiles that you are looking for, please contact us and we will help you find the best solution to suit your needs by calling our offices on:

UK customers +44(0) 23 809 870 30 /

US customers (561) 320-9162 and our technical staff will advise you regarding our measuring instruments. Our engineers and technicians will be happy to help you with the diamond testers, and of course, with the other products in the field of regulation and control, and scales and balances.
Here you can see tightness testers for textiles from these companies:


Technical information about Tightness Testers for Textiles can be found at the following links:
Further information about measurement of the winding tightness of textiles:
As mentioned above the different indenters have different calibers. Therefore their application depends on the type and tightness of the winding onto the reel. The tightness measurement on textiles follows the principle of a resistance measurement. Therefore the tightness testers measure the resistance that occurs, when an object of a certain shape intrudes with a certain previously defined compressive force. The hardness scale for such measurements covers a range between 0 and 100 hardness units, whereas 0 refers to the lowest hardness and 100 refers to the highest hardness that is measured by the tightness tester for textiles. The tightness testers follow the same principles as the Shore hardness testing.