Time Clocks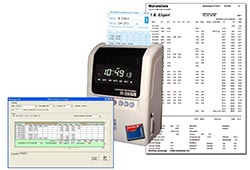 The time clocks by PCE Instruments are designed for exact determination of work hours in offices, administrations, in production or repair shops. Even in the digital age of time control the time registration with conventional methods such as time clocks and stamp cards is very common. It often means for the businesses an unnecessary expenditure of time for evaluation, if they work with handwritten registration systems, since the recorded data is often incomplete or hard to read. Even today the classical systems of time recording are favored in some businesses. We facilitate your time recording with our time clocks and help keeping records. There are verified advantages by using our time clocks for systematic attendance checks. Whether it's the recording of leave or absence or the data evaluation for salary account, our time clocks provide the solution for all of it. If you can't find the time clocks you are looking for, please contact us and we will help you find the best solution to suit your needs by calling our offices on:

UK customers +44(0) 23 809 870 30 /

US customers (561) 320-9162 and our technical staff will advise you regarding our measuring instruments. Our engineers and technicians will be happy to help you with the diamond testers, and of course, with the other products in the field of regulation and control, and scales and balances.
Here you can see time clocks from these companies:

Technical information about Time Clocks can be found at the following links: