Some editions are disposable transport data loggers, which means they are applied e.g. during sea transports and transportation by air for generating protocols, in contrary to others that are made to measure and monitor the industrial production or in areas of agriculture. Thus there are transport data loggers applied that are, depending on their field of operation, re-calibratable.
In addition to a the large selection of various transport data loggers for almost any application, in the following there are listed a few information and examples:
Transport data loggers are able to capture various signals (e.g. temperature, humidity, voltage) over a certain period of time. A data collector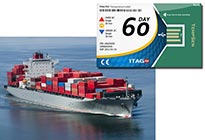 consists of a programmable processor, a data storage, interfaces and one or several input channels to connect various sensors to it. The transport data loggers are mostly operating on batteries. Through measuring sensors the measuring data can be captured as well. Through an analogue-to-digital converter that information can be converted to storable data und thus saved on the transport data logger. That data is also preserved if the batteries die or the batteries are taken out. The captured data can be read out via the serial interface or via USB and be evaluated by using the relevant software for it. Via one of these interfaces the transport data logger can be also configured for its application (e.g. start and finish of measurement, measuring intervals etc.)
Whenever a long-term measurement of one of the measuring parameters is required, without needing personnel to monitor it, transport data loggers are applied. Thus the loggers are especially applied for monitoring transports (e.g. transportation by HGV), to analyze errors in systems (e.g. fluctuating voltages or in a storage facility).
The transport data logger are to connect via a data cable to the computer, then the devices are configured via a software (measuring interval, time of start, stopping time, ...). Afterwards the transport data logger is to disconnect from the computer and to install at the wished measuring location. In case the data loggers is not equipped with an automated time of start, the transport data logger must be started manually. Now the transport data logger starts the measuring process and automatically saves the measured data. As soon as the given time interval is completed or the internal data storage is maxed-out, the transport data loggers switches itself off and the measuring process ends. The transport data logger can now be removed from the measuring location again and connected to a computer, in order to read-out and evaluate the recorded data.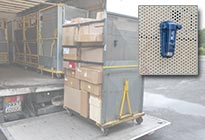 Please consider that the various sensors of the transport data logger might perish by time. Thus especially transport data loggers with humidity detectors might be effected by that. The measuring accuracy might be effected negatively, if the sensor is older. Some of the transport data loggers, such as e.g. the ones of the Hobo series are calibrated for a certain application time (approx. 2 years). Almost every other edition of the transport data loggers allows a recalibration by using optional humidity standards any times. Furthermore the devices with a transport data logger are also calibratable according to DIN ISO 9000 and by that they can be applied for years. Please consider always whilst using a transport data logger with several input channels, that the information on the maximum storage capacity relates to the case of only one input channel . In case you should use a transport data logger with four input channels, the maximum storage capacity is divided by four (example: Maximum capacity: 32000 byte, by using four input channels it equals 8000 byte per channel).
Further information on that topic:
Transport data loggers in areas of research: university of Essen