HGV Scales
HGV scales are designed to capture the weight of a whole heavy goods vehicle. The advantage of such a heavy goods vehicle is that the goods,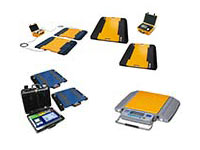 with which the HGV is loaded or unloaded from, can be detected within a short amount of time. Therefore the HGV scales need to perform a weighing at two times. For once the HGV scales need to perform a weighing before the loading or un-loading and once afterwards. Therefore the HGV scales are often installed in a weighing station, that is positioned outside. Therefore it is important to select the HGV scales according to the relevant requirements. As soon as the weight determined by means of the HGV scales, is used as a calculation base for e.g. certain further calculations, the HGV scales need to be calibrated first. Calibrated HGV scales are regularly checked by standardization authorities on their accuracy and protected from manipulations. HGV scales are provided in variations with option to either integrate them into the ground, or to drive on for weighing, or even as mobile HGV scales. The HGV scales for integration into the ground are the most expensive ones, but also very space-saving, since they do not require a ramp, in contrary to the drive-on HGV scales. On the other hand the drive-on HGV scales are more flexible and work on lower costs. The mobile HGV scales are therefore more often used in areas with mobile application, such as e.g. applied by the police. Don't hesitate to call us if you wish to enquire about our HGV scales. If you can't find the HGV scales you are looking for, please contact us and we will help you find the best solution which suits your needs:

UK customers +44(0) 23 809 870 30 /

US customers (561) 320-9162. Our technical staff will advise you regarding our products. Our engineers and technicians will be happy to help you with the axle load scales, and of course, with the other products in the field of regulation and control, and measuring instruments.
Here you can see approved scales from these companies:




Technical specifications for our HGV Scales can be found at the following links:
- HGV Scales PCE-WWSB8
(Calibratable, mobile truck scale, two weighing platforms for max. approx. 8,000 kg, display incl. printer)


- HGV Scales RW series
(weighing range up to 10 t per wheel, resolution above 2 kg, 20 hrs with battery operation, up to 6 platforms)


- HGV Scales RWP-Set series
(weighing range up to 15 t per wheel, resolution above 5 kg, IP65, cable connection with up to 6 platforms)


- HGV Scales RWZ-set series
(weighing range up to 15 t per wheel, resolution above 5 kg, IP65, cable connection with up to 12 platforms)


- HGV Scales WWSB series
(range up to 8 t per wheel, resolution above 0.2 kg, IP68, available area 400 x 300, 10 m cable, weight 14.5 kg)


- HGV Scales WWSC series
(range up to 15 t per wheel, resolution above 0.5 kg, IP68, available area 500 x 400, 10 m cable, weight 18 kg)


- HGV Scales WWSE series
(range up to 15 t per wheel, resolution above 2 kg, IP68, available area 700 x 450, 10 m cable, weight 26 kg)


- HGV Scales WWSD series
( range up to 20 t per wheel, resolution above 2 kg, IP68, available area 900 x 500, 10 m cable, weight 42 kg)


- HGV Scales WWSF series
(range up to 25 t per wheel, resolution above 5 kg, IP68, available area 900 x 700, 10 m cable, weight 67 kg)


- HGV Scales WWSE-RF series
(range up to 25 t per wheel, resolution above 2 kg, IP68, available area 750 x 450, 10 m cable, weight 28 kg)


- HGV Scales WWSD-RF series
(up to 20 t per wheel, resolution above 2 kg, IP68, available area 950 x 500, radiation connection, incl. display)


- HGV Scales RWS series
(weighing range up to 25 t, resolution above 5 kg, platform size 3,000 x 730 mm, for dynamic weighing)


- Calibratable HGV Scales WBSA series
(weighing range up to 25 t, resolution above 5 kg, platform size 3,000 x 730 mm, for dynamic weighing)


- Calibratable HGV Scales DTW series
(weighing range up to 80 t, resolution above 5 kg, drive-on platform max. 22 x 1 x 0.2 m, easily transportable)


- Calibratable HGV Scale of the 3590E series
(25 keys, 15 mm LED, IP65, for up to 16 load cells, 3 serial outputs, profi-bus optional)

- Calibratable HGV Scale display of 3590E BOX series
(Self-service system, incl. printer, stainless steel enclosure, IP65, for up to 16 weighing cells)


- Calibratable mobile HGV Scale display for 3590EKR series
(with carrying case, 4 plug connections, incl. printer, 25 keys, battery-driven, for up to 16 weighing cells)


- Calibratable HGV Scale DFWT series
(17 keys, 25 mm LED or LCD, IP65, for up to 16 weighing cells, incl. printer, 30 tare archive)

- HGV Scale Display for TSCR series
(15 inch monitor, IP65, touch screen)


- Calibratable HGV Scales Display of DFWLKR series
(5 keys, 25 mm LCD, for up to 16 weighing cells, radio connection possible, incl. printer and case)


- Calibratable HGV Scale Display for DFWLKRP series
(17 keys, 25 mm LCD, for up to 8 platforms, radio connection possible, incl. printer and case)


- Calibratable HGV Scales for DFWLAP series
(5 keys, 25 mm LCD, for up to 4 / 8 platforms, max. 16 weighing cells, radio transfer)


- Equipment for HGV Scales for WWSLM series
(Height modules for vehicle scales of WWSE and WWSD series, size max. 1200 x 900 x 71 mm)


If you wish to view or print a selection of HGV scales from our catalogue, click PDF symbol: