pH regulators
pH regulators are used in fish farming, sewerage and in agriculture.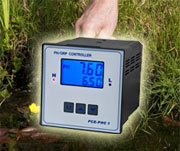 pH regulators check the pH value in different elements and can introduce acid or alkaline solutions (depending on the measured value) to keep these values within their limit. There are different pH regulators depending on two or three-points regulation, with one or to contact regulators. Some pH regulators have available output for a recorder. This output can be connected to a display system which is very useful in sewerage due to the strict laws regarding this matter. Limit values are introduced by means of diverse key places in the front of the pH regulators. Äll pH regulators come with LCD display to view the current measured value. This is an advantage in the production sector. The user will always have an insight on the current pH value. If you have any questions regarding our pH regulators, please contact us:

UK customers +44(0) 23 809 870 30 /

US customers (561) 320-9162 and our technical staff will be pleased to help you with the pH regulators that best suit your needs as well as the rest of measuring instruments and scales available at PCE-Instruments.

Technical information about pH regulators can be found at the following links:
For water-conditioning, in fish farming or in pool treatment, it is important to keep a constant pH value.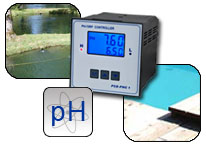 The pH value is an important factor in fish farming because if the pH value deviates from the optimal value, all the breading can die. The pH regulators continuously check water quality and add acid or alkaline solutions to water when necessary. These regulators are also very important in the sewerage sector. If pH exceeds the limit, drainages can damage the environment. With the pH regulators, waste water can be tested before they go to the drain, so some water neutralizers can be added. As a conclusion, pH regulators can help to protect the environment. In pool treatments, pH regulators ensure that pH is neutral to avoid skin irritation of swimmers.