Redox Controllers
The redox controller is a mountable device to integrate into processing structures in order to regulate redox potentials. Most of the redox controllers are equipped with various outputs to which electrodes or dosing units can be connected to. Thus by means of optionally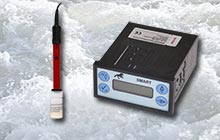 purchasable electrodes the redox controllers can also function as redox meters. Thus they measure the redox potential so that they allow calculating how to set the potential according to the adjusted thresholds. Those information will then be transferred to the connected dosing unit, that will then handle the addition of reducing or oxidizing chemicals. Thus the desired redox value can be achieved. Those devices can also function as indicators since they feature displays and alarm systems, which assure an increased safety during processes. Thus redox controllers are often used for water analysis, e.g. in public baths (700 mV as a reference value), or in areas of lab-technology. Some of the redox controllers listed here even measure the pH, the conductivity or the temperature. All of our redox controllers feature a robust enclosure, which allows an application even under rough surrounding conditions. If you can't find the redox controllers you are looking for, please contact us and we will help you find the best solution to suit your needs by calling our offices on:

UK customers +44(0) 23 809 870 30 /

US customers (561) 320-9162 and our technical staff will advise you regarding our measuring instruments. Our engineers and technicians will be happy to help you with the diamond testers, and of course, with the other products in the field of regulation and control, and scales and balances.
Here you can see Redox Controllers from these companies:


Technical information about our Redox Controllers can be found at the following links:
Further information about redox potentials and redox controllers
Redox Potential: the redox potential allows conclusions about oxidizing and reducing potentials and is measured in mV. Redox controllers use metallic test electrodes that accept electrones or donate them. Since the electrode itself must not react to the measured solution, they should consist of noble metals. Only if it is the case that the tested medium contains reducing or oxidizing substances the transfer of those electrons will actually occur. The transfer resulting from that potential will then be measured. Such redox controllers are for example often used in areas of sewage treatment and in swimming pools.
Redox Controller applied on swimming pools: The ability of decontamination of water is also determined via redox controllers. Thus the time that the water needs to devitalize bacteria directly correlates with the redox values. The demanded value counts in this case 700 mV. In aquariums with saline water, the potential should be round about 350 to 400 mV, while in freshwater it should be round about 250 mV.
Redox Controller for sewerage treatment: Especially for the treatment of industrial sewerage the redox controller is often used. The detoxification is performed by either reducing chromate or oxidizing cyanide.