Universal transducers
Universal transducers convert different kinds of input signals into analogue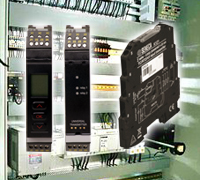 normalized signals. Universal transducers can be used for many purposes due to the fact that almost all signals such as resistance, current or voltage can be read and processed with the universal transducers. The UMU-100 universal transducers are set by means of a display which is connected to the device. After the transducer is set, it is important to disconnect the display to avoid a misuse. The authorized person will have access to the universal transducer to set the parameters if it is required. The WK121 universal transducer can only be set by means of the software. Thanks to its small size, the WK121 can be placed in any electric cupboard. If you have any questions regarding our universal transducers, contact us:

UK customers +44(0) 23 809 870 30 /

US customers (561) 320-9162 and our technical staff will be pleased to advise you on our universal transducers as well as on the rest of measuring instruments available at PCE-Instruments.

Technical information about universal transducers can be found at the following links:
Universal transducers are important devices inside the group of control systems due to the fact that they can read many different quantities. The manufacturing of special indicators and controllers for single quantities will considerably increase the cost of the device. Universal transducers offer the solution to diverse measurement processes. Universal transducers allow to process temperature sensors, thermo elements, power meters or common current and voltage signals. Even specific sensors can be connected to measurement systems. Universal transducers can also be used for the galvanic insulation to achieve potential insulation avoiding electromagnetic interferences.