Some of our devices can transfer data to a PC or a portable computer. With the help of the interface, data cable and software, data can be directly transferred to a software program or other Windows applications. Stored measuring values can be transferred to a PC in the same way.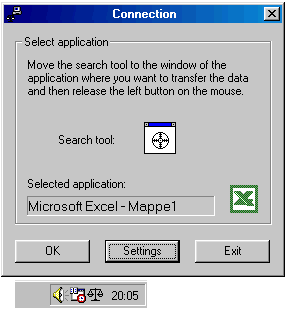 Pressure gauges with data transference.
This image belongs to the English software. In some models, the software can also be found in a German version. In the case of the English software, there are some instructions written in German with a great amount of images which make possible the program operation.

- To be used with Windows 95 / 98 / 2000 / NT / Win XP Professional

- Data transference: from the meter to the computer through a data interface to Windows applications. Programs like Excel calculation program or Lotus 1-2-3 will be improved with the transference function.

- For pressure gauges AV-40 series it is necessary the use of an additional software for data transference.  
Contact:
PCE Instruments UK Limited
Units 12/13 Southpoint Business Park
Ensign Way, Southampton
United Kingdom, SO31 4RF
Phone. +44 ( 0 ) 2380 98703 0
Fax +44 ( 0 ) 2380 98703 0