Carbon Dioxide Meters
In this category you will find an overview of our carbon dioxide meters which are especially made for the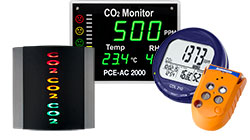 determination of the carbon dioxid content in the air. These carbon dioxide meters warn optically or acoustically when the carbon dioxide content is critic (depending on the model). Moreover, some models support the function of switching relays when an adjusted value is exceeded. This function can help with the automatic conditioning of rooms. The auto calibration function of some carbon dioxide meters makes an easy calibration of carbon dioxide meters possible. Some models support the function of data storage and further data transfer of measuring results to a computer. Therefore, it is possible to take longterm measurements in order to capture the carbon dioxide content of a specific place for a longer period. Moreover, you can find carbon dioxide meters for fixed installations. These can be applied individually or in connection to a gas warning system. If you can't find the carbon dioxide meters you are looking for, please contact us and we will help you find the best solution to suit your needs by calling our offices on:

UK customers +44(0) 23 809 870 30 /

US customers (561) 320-9162 and our technical staff will advise you regarding our measuring instruments. Our engineers and technicians will be happy to help you with the carbon dioxide meters, and of course, with the other products in the field of regulation and control, and scales and balances.
Here you can see carbon dioxide meters from these companies:







You can view the technical specifications for our Carbon Dioxide Meters at the following links: