How is electrostatic charge generated and what are the possible consequences?
Electrostatic charges can appear anywhere. They are produced by the friction between two materials and the resulting transfer or electrons. The material that emits the electrons is positively charged, while the material that absorbs the electrons is negatively charged. The electric fields generated can be measured and calculated by electrostatic meters. The charges may therefore have unpleasant effects. An example of this is the attraction of dust particles in electro statically charged objects. In the household, this often happens on television screens. In industry, this is a problem, in, for example, conventional varnishing, as the pieces must be dust-free for the varnish to adhere well and to avoid lumps. If an electrostatic charge is produced between two objects, the consequences can be very serious.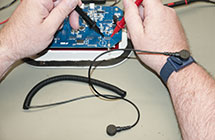 Because of the short discharge time, and the small impact area, even in the case of tensions lower than 100V, electrical energy and elevated energy densities may be produced, enough to cause irreparable damage to delicate electronics. Therefore, in jobs with electronic components, an ESD protection is very important. The minimum equipment includes a diversion base with earth charge (ESD mat) and an earth charged bracelet. In case of an electrostatic beam discharge, when working with easily flammable materials, both fires and explosions can occur. When an electrostatic discharge occurs, an electrical impact is perceived only after approx 2000V. In the case of very high tensions, discharges can also have health consequences.
But electrostatic charges are not only unpleasant and dangerous. In many areas, the attractions generated by these charges can be taken advantage of. This is the case in stickers or electrostatic labels, for example, when thanks to the charge; they are completely adhesive without glue. This effect is also used in electrostatic coverings. The material which is being varnished is electro statically charged and it can be applied to the object with a gun, which has an earth charge, and afterwards is dried by heat. Apart from a very smooth covering, approximately 30% of the material is saved.