Conductivity Regulators
Conductivity regulators are often installation devices and are usually installed prior to dosing units. Prior to a conductivity regulator itself there is usually a test electrode installed, that is able to transfer the measurement results immediately to the conductivity regulator. T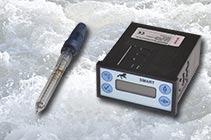 he conductivity regulator converts the test signal first into a standard signal, which is then sent to the dosing unit. After that the dosing unit performs the indication and regulation of the electrolytic conductivity. Additionally conductivity regulators mostly feature also a display that indicates the measured data that can be directly read from the display. Conductivity regulators are mostly threshold regulators, which means that they are activated as soon as a threshold is trespassed. This also means that they are not designed for exact dosing. But there are also conductivity regulators in our assortment that support a relative impulse regulation. The conductivity controllers nowadays are devices that are supported by micro-processors, which can be adjusted individually to the measurement procedure. Thus conductivity regulators are often used in areas of drinking water treatment or in facilities for bottling drinks. Our conductivity regulators furthermore feature robust enclosures, which allow an application even under rough surrounding conditions. If you can't find the conductivity regulators you are looking for, please contact us and we will help you find the best solution to suit your needs by calling our offices on:

UK customers +44(0) 23 809 870 30 /

US customers (561) 320-9162 and our technical staff will advise you regarding our measuring instruments. Our engineers and technicians will be happy to help you with the diamond testers, and of course, with the other products in the field of regulation and control, and scales and balances.
Here you can see Conductivity Regulators from these companies:



Technical information about our Conductivity Regulators can be found at the following links:
Further information about conductivity regulators
The measurement of the conductivity represents aside from pH measurement the most common electrochemical method in areas of process engineering. The basic principle of conductivity measurements, that is often called conductometry, is based on the measurement of the salt content in fluids. The more salt is contained in water, the higher is its conductivity. Conductivity regulators react to different kinds of salt, due to which by measuring the salt content conclusions about the water quality can be made quickly. The measured salt concentrations in water lay between 0 mg/l (pure water) and 250 g/l (saline solution). Conductivity measurements are performed in a variety of industrial fields, since for many procedures there are specific salt concentrations required. Due to that fact the conductivity regulators are applied e.g. in wastewater plants, in desalination plants or in areas of the pharmaceutical industry. But not only the conductivity measurement is required for these processes, but also their regulation. That regulation is performed by means of the conductivity regulators. A conductivity regulator receives measurement signals from connected test electrodes, which are then converted into electrical standard signals by the conductivity regulator itself. Common standard signals of conductivity regulators are for example current signals (0 ... 20 mA / 4 ... 20 mA) or voltage signals (0 ... 10 V). Such standard signals have an advantage by being able to send signals over larger distances. Especially the 4 ... 20 mA signal features the option of detecting defaults directly, which is the case, when the dosing unit donates electricity of under 4 mA. As soon as the standard signal from the conductivity regulator is received, the connected dosing unit is able to interfere by either reducing the pollution of the water or by adding more salt to it. This plays a major role in facilities that bottle drinks. After filling the bottles, the facility has to be cleaned-up by using very aggressive cleaners that have to be removed thoroughly afterwards. Therefore conductivity regulators are very helpful. As one might imagine, especially within the pharmaceutical industry there are very strict regulations that must be followed accurately, in order to prevent potential danger or accidents. The conductivity regulators may not trespass the following thresholds: