Speed Regulators
As power generation is typically performed on machines with the help of engines that turn,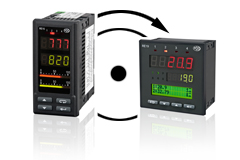 speed regulators are often essential to avoid interruptions in the process. Speed regulators detect current speed. If the revs are too low, it will be necessary to increase the engine power. Revolutions are usually measured as frequency and signal must be converted as standard. In such cases you can use analogue frequency transducers, such as IFMA offered by PCE. Different jobs require different control functions that is why on our site you will find the wide range of speed controllers with different equipment. Normally the input signal can be scaled freely. In addition to a continuous control output drive, speed regulators typically provide control outputs, which act in case of failure or when it exceeds the limit values. So, these speed regulators do also some control of the facilities, besides the regulation itself. To achieve flexible control, some speed controllers are equipped with internal memory, which saves the development in the setpoint time. The speed regulator combines on the one hand keys on the front part with several screens. In addition to the 7-segment displays, LCD screens and digital displays with bar graphs to facilitate reading are also used. If you have technical questions about these speed regulators, please contact us:

UK customers +44(0) 23 809 870 30 /

US customers (561) 320-9162 and our technicians will be happy to advise you on this subject as well as on ther instruments in the field of meters and scales.

Here you will find more speed regulators following the links:
Many facilities
require an accurate reading of revolutions. For control, and if necessary correction, you can use speed regulators. Speed regulators measure current speed. Speed regulators often have a frequency output, the signal must be converted into an analogue signal, for example, 4-20 mA. Speed regulators compare the current reading speed with the setpoint. This value is set by the user. If the variation is small, it is not necessary for regulators to make an adjustment speed. If the variation is greater, the analogue control output of speed regulators is amended, to get a fix of revolutions. The control output controls e.g. a frequency converter, which affects the speed of an engine. Modern speed regulators can be used in a flexible way thanks to digital technology. The scale of the input signal can be changed very easily by a few keys. This allows regulators to adapt to different work speed regulation. You can also quickly and easily change control parameters. To avoid any tamperings with the settings the speed regulator can be protected by an access code. Speed regulators are usually continuous controllers to continuously influence the controlled variable, which allows no changes in industrial processes. This is the reason why the speed controllers are equipped with an analogue output. This feature distinguishes speed regulators such as temperature controllers, which are equipped with only one relay.