- METRAHIT Extra series Multimeters
(instrument with patented terminal lock, temperature measurement, 26 measurement functions)


- METRAHIT Outdoor series Multimeters
(extremely robust and strong measuring device, waterproof and dust-resistant according to IP 65)


- METRAHIT ENERGY series Multimeters
(to measure the energy and power, with automatic terminal, temperature measurement)

- METRAHIT MULTICAL series Multimeters
(with indication of desired value for electric current and voltage, measurements of frequency)


back to the top
- FLUKE 287 Multimeters
(Measuring device with a dot-matrix of 50.000 digits and data-logging function)


- FLUKE 289 Multimeters
(Multitester with a dot-matrix and a low-pass filter, measuring function with a low power-impedance)


back to the top
- PCE-LT 1 series Multimeters
(ideal for quickly testing network connections)


back to the top
- PCE-UT 81B series Oscilloscope
(oscilloscope (8 MHz), multimeters, frequency counter, USB port / internal storage)


- PCE-OC 2 Oscilloscope
(10 MHz band width, integrated multimeter, storage for up to 100 measurements, USB interface)


- PKT-1205 series Oscilloscope
(multimeters with integrated oscilloscope, 20 MHz widthband, 2 channels, USB interface)

- PKT-1195 series Oscilloscope
(multimeters with integrated oscilloscope, 2 channels, 100 MHz widthband, USB interface)

- FLUKE 120 series Oscilloscope
(oscilloscope with multimeters function and TRMS measurement, 2 channels)


- PCE-DSO8060 series Oscilloscope
(handheld oscilloscopes with multimeters function, bandwidth 60 MHz, 2 channel)


- DSO Scopix OX7042 series Oscilloscope
(DSO oscilloscopes with multimeters function, bandwidth 40MHz, 2 channels)


- DSO Scopix OX7062 series Oscilloscope
(DSO oscilloscopes with multimeter function, bandwidth 60MHz, 2 channels)


- DSO Scopix OX7102 series Oscilloscope
(DSO oscilloscopes with multimeter function, bandwidth 100MHz, 2 channels)


- DSO Scopix OX7202 series Oscilloscope
(DSO oscilloscopes with multimeters function, bandwidth 200MHz, 2 channels)


- DSO Scopix OX7104 series Oscilloscope
(DSO oscilloscopes with multimeter function, bandwidth 100MHz, 4 channels)


- DSO Scopix OX7204 series Oscilloscope
(DSO multifunctional oscilloscopes, bandwidth 200MHz, 4 channels)


back to the top
- PCE-123 series Multimeters


(multifunctional-gadget for simulation and measurement of electrical signals and frequency)


- ISO-Calibrator 1 series Multimeters
(resistance calibrator for testing and calibrating resistance meters)


Bench Top Multimeters
back to the top
- PKT-4000 Bench Top Multimeters
(Bench Top Multimeters with absolute value measurement, 4 ¾-digit, 15 mm LED-display, diode-test)

- FLUKE 8808A Bench Top Multimenters
(5.5 digits Bench Top Multimeters, Limit value comparison, 2 x 4-opposition measuring functions)


Clamp Meters / Multimeters
back to the top
- PCE-DC 1 series Clamp Meters
(Measures up to 200 A AC/DC, frequency measurement included, voltage surge category III)


- PCE-DC 2 series Clamp Meters
(Measures up to 200 A AC/DC, ohms measurement included, voltage surge category III)


- PCE-DC 4 series Clamp Meters
(Measures up to 1000 A AC, category III)


- PCE-LCT 1 series Clamp Meters
(Measures up to 100 A AC, category III)


- F01 Clamp Meters
(Real-time RMS measuring, AC measuring, voltage measuring, display-hold-function)
- F05 Clamp Meters
(For measuring alternating and direct current, detection of rotating magnetic fields)


(With measuring adapter function, DC measuring, detection of rotating magnetic fields)


(Multimeters with Earth Leakage, 10,000 count, It also provides all the functions of a clamp-on multimeter)


(To detect insulation faults and untimely tripping of RCDs caused by leakage currents)


- PCE-PCM1 series Clamp Meters
(Gadgets with internal memory, USB port and software / three-phase / energy meter / TRMS)


Some Digital Multimeters in use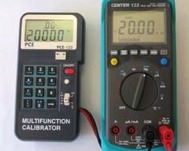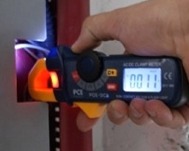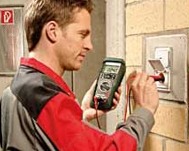 Calibrating one of our Multimeters using Testing the voltage in a cable at a distance Analysing a switch using
PCE-123 series Multimeters. using the PCE-DC3 series multimeters. METRAHIT Extra series multimeters.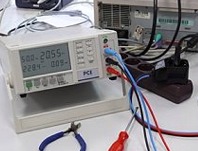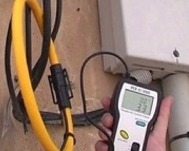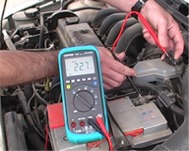 Testing the voltage of a station Comprobating current cables Testing electrical ground of a vehicle using
using PCE-PA6000 series multimeters. using PCE-EI-3000 series multimeters. PCE-DM 22 series multimeters.
General information about multimeters:
The easy mechanical construction and electrical components that are build in bulk production, are important advantages of these instruments. Therefore, these gadgets are very affordable. In addition to that these multimeters are equipped with a protection circuit for overload and wrong polarity. Our instruments are nearly indestructible in the voltage measuring range. Collisions as well as crashes do not harm them because there are no movable parts outside the multimeters. Few measuring instruments show measuring options for frequencies, capacities, inductance as well as transistor and diode characteristics. By having sensors that measure sound, luminous intensity, humidity and temperature included, a few multimeters are not only designed for electrical values. With external sensors, which come with voltage outputs, the range of possible applications can be enlarged. Beside air humidity, sound, illumination or temperature measurements, the multimeters are able to measure further values of mechanical speed, pressure, air velocity and voltage, via a clamp. Multimeters are offered in several forms and types. Pen multimeters or voltage meters with multimeter function are used by craftspeople which carry out small measurements. Handheld multimeters are mostly used in classical multimeters designs with a display in the upper part, the multifunctional rotary switch in the middle of the multimeters and a test cable in the lower part of the multimeters. These multimeters are mostly used by maintenance professionals as a universal measuring instrument. Table or laboratory multimeters are used in stationary workplaces. These multimeters usually have a larger display and are able to be provided with 230 V AC. Further categories of multimeters are measuring ampere callipers with multimeter functions or oscilloscopes with multimeter function. The measuring range on the multimeters will be mostly set automatically or by hand.

Multimeters are divided into two groups of multimeter: Multimeters and analog multimeters. In the following part the characteristics will be described: Multimeter with an analog display can be found in Analogue Multimeters. The Multimeter is used for measurements of voltage and electricity. Beside these functions this modern multimeter owns the characteristics to measure capacity, inductance, resistance and temperature. The multimeter also includes an continuity and diode tester. Measured values will be measured via an AD transmitter and will be shown on the display. Beside the numerically display, the display of values can be shown on a baragraph. The user is able to sort the values into a range of measuring, much more easier. This is a great advantage of multimeters. The multimeter generates an analog display like it's known from analog multimeters.




Principle: Measurement of currents with a multimeter:
Voltage will be measured in series. That means that you have to interrupt the normal current circuit so that current will flow. The resistance inside of the device is really low resistive. This is important for non falsified measurements.

On multimeter usually three sockets are available:

1. "COM" adaptor for ground wire, always required
2. mA to measure flows in mA ranges this bush will be used
3. 10A to measure great flows in the A-range this bush will be used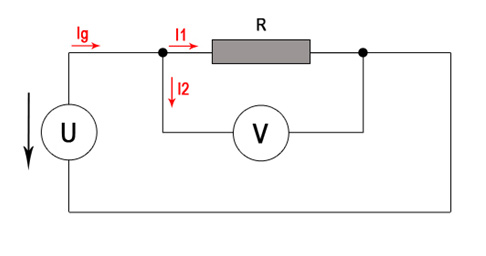 Principle: Measurement of voltage with a multimeter:
Voltages will be measured parallel to circuits. The multimeter will measure around the component whose values are desired. Mostly, voltage will be measured in reference to earth. In this case multimeter are highly resistive.

On multimeters there are two sockets available.

1. "COM" connection for ground wire, always required
2. "V/Ω " to measure voltage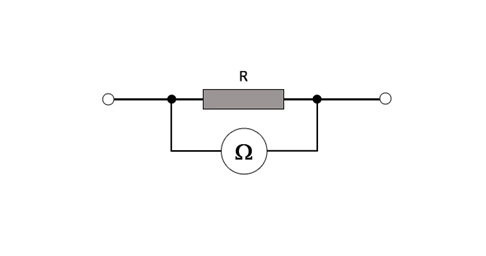 Principle: Measurement of resistance with a multimeter
To measure resistance with the multimeter the test prods will be placed on both sides of the component. The multimeter usually doesn't measure resistance. Therefore it uses the Ohm's law. In this formula resistance will be the product of voltage/current. These both values can be determined. Resistance can be detected by this calculation.

On multimeter two sockets are available.

1. "COM" adaptor for ground wire, always required
2. "V/Ω " to detect resistance with multimeter
If you wish to view or print a selection of our multimeters from our catalogue, click the PDF symbol.