Carbon Dioxide Meters
In this category you will find an overview of our carbon dioxide meters which are especially made for the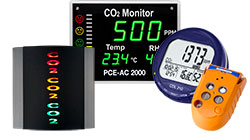 determination of the carbon dioxid content in the air. These carbon dioxide meters warn optically or acoustically when the carbon dioxide content is critic (depending on the model). Moreover, some models support the function of switching relays when an adjusted value is exceeded. This function can help with the automatic conditioning of rooms. The auto calibration function of some carbon dioxide meters makes an easy calibration of carbon dioxide meters possible. Some models support the function of data storage and further data transfer of measuring results to a computer. Therefore, it is possible to take longterm measurements in order to capture the carbon dioxide content of a specific place for a longer period. Moreover, you can find carbon dioxide meters for fixed installations. These can be applied individually or in connection to a gas warning system. If you can't find the carbon dioxide meters you are looking for, please contact us and we will help you find the best solution to suit your needs by calling our offices on:

UK customers +44(0) 23 809 870 30 /

US customers +1-410-387-7703 and our technical staff will advise you regarding our measuring instruments. Our engineers and technicians will be happy to help you with the carbon dioxide meters, and of course, with the other products in the field of regulation and control, and scales and balances.
Here you can see carbon dioxide meters from these companies:







You can view the technical specifications for our Carbon Dioxide Meters at the following links:
- PCE-AC2000 Carbon Dioxide Meters
(Carbon Dioxide Meters for combined measuring of CO2, temperature and humidity)


- CDL 210 Carbon Dioxide Meters
(Carbon Dioxide Meter with data logger, temperature and moisture indicator)


- Aircontrol Observer Carbon Dioxide Meters
(with sensors for CO2, humidity and temperature)

- PCE-AC 4000 Carbon Dioxide Meters
(CO2 measurement up to 9,999 ppm, temperature and air humidity, three-colored-LED)


- SoundAir® CO2 Carbon Dioxide Meters
(Carbon Dioxide Meters are simple and economic solution to improve the inner air)

- PCE-AC 3000 Carbon Dioxide Meters
(Carbon Dioxide Meters with indicator of temperature for ventilation / internal memory for carbon dioxide)


- IAQ7515/7525 Carbon Dioxide Meters
(For carbon dioxide control in interiors, software)


- Check Point series Carbon Dioxide Meters
(Portable Carbon Dioxide Meter for point checkings of packaged food or pharmaceutical products)


- Check Point II series Carbon Dioxide Meters
(Gas Detectors with memory and base station for tests of food or pharmaceutical products)


- Gasman N CO2 Carbon Dioxide Meters
(Single gas measuring instrument, carbon dioxide and more than 10 different gases selectable)


- Tetra mini Carbon Dioxide Meters
(Multiple gas Detectors with ATEX approval)


- Ozone meter Tetra 5 / Tetra 5 O3 Gas Detectors
(Gas Detectors for ozone and oxygen with authorisation (ATEX II 2G EEx iad IIC T4))
- Gas-Pro Carbon Dioxide Meters
(Gas-Pro multigas Detectors, it measures up to 5 gases with "Positive Safety" indication)


- Gaseeker Carbon Dioxide Meters
(Multiple gas detectors with internal storage and software)


- CO2 CellarSafe Carbon Dioxide Meters
(Fixed Detectors to measure CO2 content with alarm and connecting relay)


- Carbon Dioxide Meters (with protection ATEX)
(For almost all types of gases, to be used alone or with a gas alarm)


Both photos show our gas detectors at work.
ATEX production standards (officially know as "ATEX 95" for Article 95 in
the EG document for the free movement of products) of the European Parliament and the European Council of State members for gas detectors and protective systems to be used in dangerous environments, have been put in place to include products used in these sectors. This standard includes non-electrical devices for the first time, as moving parts can ignite due to unforeseen overheating. The purpose of the standard is to protect people who work in environments where there is a risk of explosion. The standard contains, in appendix II, the basic requirements for the health and safety that the manufacturer must have in place to and should check with the corresponding EC regulations.
If you wish to see or print a selection of gas Detectors from our catalogue, click the PDF symbol