- PCE-HT71 Thermometers
(Temperature meters for temperature, humidity, 32.000 values)


- PCE-TD 70 thermometers
(Measuring range of -40 to +70 °C, for 32,000 values)


- PCE-TH 5 Thermometers
(Temperature and Humidity, Internal sensor, Data-Hold function, Min, Max and Average)


- ITAG-PDF Thermometers
(Climate meters with Measurement range of -30 °C to +70 °C)

- Hobo U12 Thermometers
(with 4-channel temperature for temperature sensors)


- ZW-EU Thermometers
(with Measuring ranges of -20 °C ... +70 °C line-operated and -20 °C ... +50 °C battery-operated)


- PCE-THB 40 Thermometers
(Temperature testers to ambient temperature, humidity and barometric pressure (max. 16 GB, SD card))


- PCE-MSR145 series Thermometers
(Temperature testers to temperature / humidity / pressure )


- Log10 Thermometers
(Thermometers for long-term measurement and documentation, large internal data storage, large display)


- Log 100 / 110 Thermometers
(Temperature testers for temperature and humidity, input for external sensor, 60.000 measurement values)


- PCE-MF 1 Thermometers
(mini thermometers with a wide measurement range -35 ... 250 șC)


- PCE-FIT 10 Thermometers
(Body-Modus (body temperature) 32 ... 42,5 °C and Surface-Modus (surface temperature) 0 ... 60 șC)

- FLUKE 61 Thermometers
(Infrared Thermometer for non-contact and accurate measurements, range -18 ... +275 °C)


- PCE-777 Thermometers
(Temperature testers to measure large distances, up to +260 ș C, relationship measurement)


- FLUKE 62 Thermometers
(Infrared Thermometer with a backlit display, range -30 ... +500 °C)


- PCE-DPT 1 Thermometers
(with alarm, shows temperature, humidity and dew point temperature, -50 ... 380 ° C)


- PCE-IR 100 Thermometers
(thermometers to measure surface temperature or inside food)


- PCE-IR5 Thermometers
(for contact-free measurement of temperatures on surfaces, stationary application possible, up to +500 °C)


- FLUKE 63 Thermometers
(Infrared Thermometer for measuring of surface temperature, range -32 ... 535 °C)


- PCE-888 Thermometers


(with laser and accurate to within 11.5%)


- MS-Pro Thermometers
(Temperature testers with a range from -32 șC to 760 șC, type K sensor and software)


- MS-Plus Thermometers
(intelligent temperature meters with an accurate optical component)


- FLUKE FoodPro / Food Pro Plus Thermometers
(Infrared Thermometers for measurements in the food industry, range -30 ... +200 or -35 ... +275 °C)


- PCE-889 Thermometers


(with range <1000șC, graphic display, adjustable emissivity)


- PCE-IVT 1 Thermometers
(tester up to 1.000 șC, temperature and air humidity additionally displayed , data memory, camera function)


- PCE-IR 425 Thermometers
(with range <1000șC, graphic display, adjustable emissivity, different materials)


- FLUKE 566 Thermometers
(Infrared Thermometer for contact and non-contact measurements, with logging function, range -40 ... +650 °C)

- LS-PLUS Thermometers
(with a wide range of temperature from - 35°C to 900°C)


- PCE-JR 911 
(non-contact temperature testers with internal memory and RS-232 interface)


- FLUKE 568 Thermometers
(Infrared Thermometer for contact and non-contact measurements, with logging function, range -40 ... +800 °C)


- PCE-IR 1000 series
(infrared temperature meters for temperatures up to +1800 °C (f.e. in metals, ceramics)


- PCE-IR10 series Thermometers


(thermometers for the continuous measurement of surface temperature, with LCD)


- FLUKE VT02 Thermometers
(Visual IR-Thermometer with a measuring range from -10 ... +250°C and an exclusive NEAR/FAR function


- PCE-IC1 Thermometers
(for infrared temperature to accurately test infrared devices up to 350°C)


(Thermal Imaging Cameras Flir i3 / i5 / i7, compact, light weight, easy to use, resolution 140 x 120 pixels)


- FLUKE Ti100 / TiR110 / TiR125 Thermometers
(Cameras in different varieties with different measurements ranges, sensors with up to 160 x 120 pixels)


- Flir Ebx-Series Thermometers
(Thermometers up to 320 x 240 pixels, temperature range up to 250 °C picture in picture)


(Thermometers with data transfer to tablet or smart phone, PiP-Function, -20 °C ... 120 °C)


- FLUKE Ti100 / Ti110 / Ti125 Thermometers
(Cameras in different varieties with different measurements ranges, electronic compass, 160 x 120 pixels)


- Pyroview 160 L Thermometers
(Thermometers for stationary use, measuring range from 20 to 500°C, spektral range 8 to 14 "m)


- FLUKE TiR27 / TiR29 / TiR32 Thermometers
(Cameras for the building application, high-resolution sensors with up to 320 x 240 pixels)


(professional thermal imaging cameras with 384 x 288 pixels, motor focus, professional software)


- FLUKE Ti27 / Ti29 / Ti32 Thermometers
(Thermal cameras for business and industry, is easy to apply, 240 x 180 to 320 x 240 pixels)


- PCE-TC 9 Thermometers
(Thermal cameras with motorized autofocus, real-time data transfer from camera to PC, 384 x 288 pixels)

- F2-T Thermometers
(to detect fire pockets or missing persons, protected enclosure IP 67, high battery performance)


- IR Inspection Window Flir IRW-Serie for Thermometers
(thermal imaging camera's inspection window, easy installation, hinged lid for quick access)


- Infrared inspection window for Thermometers
(thermal imaging camera's inspection for electrical cabinet, high voltage proofed, 3 different sizes)


- METEODIGIT IV Thermometers
(intelligent socket system, zero adjustment, average determination)


- Thermometers 
(Temperature testers for the connection to evaluation units, standard output signal)


- Combi Thermometers - Domatic beech
(analog indoor combi tools (barometer, thermometer, hygrometer), natural beech)
- Combi Thermometers - Domatic beech / aluminum 
(analog indoor combi tools (barometer, thermometer, hygrometer), beech and aluminum)
- Combi Thermometers - Domatic beech / aluminum 
(analog indoor combi tools (barometer, thermometer, hygrometer), beech and aluminum)
- Combi Thermometers - Domatic beech / aluminum 
(analog indoor combi tools (barometer, thermometer, hygrometer), beech and aluminum)
- Combi Thermometers - Domati slate 
(indoor analog combi gadgets (barometer, thermometer, hygrometer), in slate)
- Combi Thermometers - Domatic aluminium 
(indoor analog combi tools (barometer, thermometer, hygrometer), anodized aluminum)
- Combi Thermometers - Domatic stainless steel
(indoor analog combi gadgets (barometer, thermometer, hygrometer) Stainless Steel)
- Combi Thermometers - Domatic wrought iron 
(indoor analog combi thermometers (barometer, thermometer, hygrometer), wrought iron)
- Combi Thermometers - Domatic outdoor 
(outdoor analog stations (barometer, temperature, hygrometer), aluminum)
- Combi Thermometers - Stainless steel solar outdoor 
(outdoor analog stations (barometer, temperature, hygrometer) Stainless steel solar light)
- Combi Thermometers - Steel outdoor
(outdoor analog stations (barometer, temperature, hygrometer) Stainless Steel)
- Combi Thermometers - Opaque glass
(indoor analog combi thermometers (barometer, temperature, hygrometer), fiberglass)
- Combi Thermometers - Cosmos
(indoor analog combi thermometers , with function of barometer, thermometer, hygrometer)
- Combi Thermometers - Sputnik 
(temperature, humidity, pluviometers, wind speed, logger, USB adapter, Software)
- Combi Thermometers - Lumax
(with color display, weather forecast with 5 different symbols)
- 5xx Series Thermometers
(Thermometers with external sensor, 4 different types, analogue/digital display, aluminium casing)


- Combi Thermometers - Thermo Light
(indication of the temperature by changing color, connecting up to 3 transmitters)
- Combi Thermometers - Viewer
(with digital photo frame, memory card slot, display of indoor temperature and humidity)
Thermometers are instruments we use to measure the temperature of people or things. The most used and known thermometers are mercury thermometers used to measure peoples temperature and consisting of a graduated glass capillary and a pool of mercury in one end, but there are many types of thermometers such as digital thermometers that we have introduced which take temperature measurements on contact with an object these are suitable for any sector of industry. We even have infrared or laser thermometers to take measurements at distance, without contact.
Temperature is a quality that refers to the cold or hot common concept. When an object is hotter it is because it has a higher temperature. The temperature increase is due to the degree of agitation of the materials particles, so the greater agitation, the higher temperature. So we can say that the temperature depends on the movement of the molecules that a substance is composed of. If these have more or less movement, there will be a higher or lower temperature, respectively. Thermometers are devices for measuring temperature and these have changed since their invention considerably. At first thermometers were based on the principle of expansion. For this type of thermometer you need a material with a high coefficient of expansion, so that as the temperature increases, the expansion of the material is easily visible. The material used for this type of thermometer is mercury, enclosed in a glass tube that has incorporated within it a graduated scale. Today these kind of thermometers have been banned due to the polluting effect of mercury which is quite high.
These models of thermometers can display the measurement of Celsius, Fahrenheit or Kelvin. In the international system of units, the SI temperature unit is Kelvin which can be compared directly to Celsius where 0o Kelvin = -273.15oC and 0oC = 273.15o Kelvin.

First we can distinguish, so to speak, two categories in the measurement units for temperature: absolute and relative.
- Absolutes are those which start from absolute zero, which is the lowest theoretical possible temperature and corresponds to the point in which molecules and atoms of a system have the minimum possible thermal energy and are not agitated at all.

- Kelvin (international system): is represented by the letter K and has no grade symbol "º" . It was created by William Thomson, on the basis of Celsius degrees, thus setting the zero point at the absolute zero (-273.15 º C) and keeping the same dimension for grades. It was established in the units' international system in 1954.
- Relatives are compared to established physical-chemical processes that always occur at the same temperature such as freezing point of nitrogen.
- Celsius Degrees (international system): or also called degree centigrade, is represented by the symbol º C. This unit of measure is defined by choosing the freezing point of water at 0º degrees and the boiling point of water at 100 °, both measurements into a pressure atmosphere , and dividing the scale into 100 equal parts in which each one corresponds to 1 degree . This scale was proposed by Anders Celsius in 1742, a Swedish astronomer physicist.
- Fahrenheit Degrees (international system): this takes divisions between freezing points and evaporation of solutions of ammonium chloride. So by the proposal of Gabriel Fahrenheit in 1724, he set zero and one hundred in freezing temperatures and evaporation of ammonium chloride in water. It uses a mercury thermometer by means of introducing a mix of crushed ice with ammonium chloride in equal parts. At the time, the concentrated salt solution was the lowest possible temperature in the laboratory. Then he made another mix of crushed ice and pure water, which determines the point 30 ºF, then setting at 32 ºF (melting ice) and then thermometers are exposed to steam of boiling water and gets the point 212 ºF (boiling point of water). The difference between the two points is 180 º F, divided into 180 equal parts determines the Fahrenheit degree. Because of this combination of International units of measure the PCE-T395 thermometers can measure in Celsius or Fahrenheit to accomodate for all situations.
Some Thermometers in use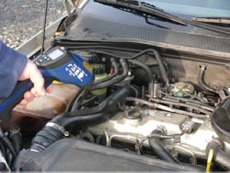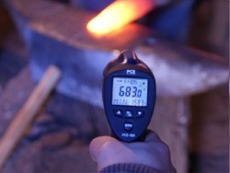 Measuring the temperature of a motor
with our thermometers.
Testing the temperature of a work of forging
with our thermometers.
Video of use with Thermometers
In this video we can see the PCE-T390 series thermometers performing a measurement by means of 3 of its 4 channels the temperature of three different points of an engine. We use two alligator temperature probes TF-109 as well as a thermal sensor TF-500.
Calibration and certification of thermometers
An ISO calibration certificate can be acquired for thermometers. It includes a control document containing the company's contact details consisting on a laboratory calibration and a certification to meet ISO standards. This means that thermometers meets the minimum requirements of the national body of measurement and it can be included in your internal set of measuring instruments. Further information:

Calibration: Control of measurement magnitudes correction for thermometers without the intervention in the measurement system, or the determination of the systematic display deviation in relation to the real value of the measuring magnitude.

Calibration certificate: document with the technical properties of the device according to the national organization of measurement.

Calibration interval: to perform correct measurements, devices must be calibrated at regular intervals. This period of time is called calibration interval. It's difficult to determine this period with accuracy but you should consider the following factors:
- Measuring magnitude and allowed margin of tolerance.
- Performance of the measuring instruments.
- Frequency of use.
- Operating conditions.
- Previous calibrations stability.
- Measuring accuracy required.
- Determining factors of the quality control systems used by companies.
This means that the user is in charge to check and control the interval between calibrations. We recommend that this interval between calibrations should be between 1 and 3 years. We can also offer our expert advice to solve any doubts relating to the process of establishing a calibration interval.
If you wish to view or print a selection of thermometers from our catalogue, click the PDF symbol.