Procedures of Hardness Metering
Procedures for hardness metering are divided into static and dynamic ones. All are based on the same principle: A penetration device is pushed into the material with constant and certain test load. The local deformation- which consists of a plastic and elastic part – is measured. The static measurements do only capture the plastic deformation component. Depending on the size of the test load, it is distinguished between: Macro- (test load F > 30 N), small load- (2-30 N) and micro hardness (< 0,5 N). The procedures for hardening after Brinell, Vikkers or Rockwell belong to the static metering procedures. In the dynamic procedures (Shore hardness- or Pendulmhammer-method as well as manual hardness metering methods) the penetration device is pushed into the material from a certain distance with the help of kinetic energy. Pipes, turbine shafts and forgings are metered with that method. For the comparison of the measurements which were taken from different procedures, in DIN 50150 tablets are available. You can find more information about hardness metering procedures on the following link
The hardness meters are delivered with work test certificates. Regular calibration (laboratory calibration with ISO certificate) may also be performed. Optionally available accessory (Test stands, adapters) can also be purchased. Please use our contact forms in case of further questions regarding our hardness meters.
Information on hardness testing procedures in detail:
Shore: The Shore hardness is a material parameter for elastomers and plastics and is at DIN 53505 and DIN 7868. The shore-hardness metering for rubber or similar material consists of a spring loaded pin whose elasticity (when entering the material) is an indicator for the shore-hardness of the material which is displayed on a scale from 0 (2,5 mm penetration depth) up to 100 shore (0 mm penetration depth).
Brinell: The hardness metering procedure developed by Brinell is used for the testing of soft and semi-hard metals, unalloyed steel or aluminum alloys, for wood and materials with irregular structure (for example cast iron). In this process, a steel ball or a carbide ball with a determined test force is pushed into the material.
Vickers: Named after the British airplane factory Vickers. Serves for metering of hard material, but also for hardness tests on thin or surface hardened work pieces and edge zones. In contrast to the Rockwell testing procedure, a pyramidal diamond with an opening angle of 136 degrees is pressed into the surface of the work piece.
Rockwell: The Rockwell hardness HRC of a material results from the norm DIN EN ISO 6508 from the penetration depth of a conical diamond. With the help of a specified test load, this cone with a sharpening angle of 120° is pressed into the work piece. The penetrated depth of the indenter serves as a reference. After that, the indenter is loaded with the brunt and hold for maximal 6 seconds. Afterwards, the brunt is removed again. Only the preload is effective now. The difference of the depths before and after laying on the brunt is the degree for the Rockwell hardness of the material. You can see hardness meters for each of the listed hardness testing procedures. Optionally, the devices can also be calibrated according to ISO or DKD. A continuously reliable measurement is guaranteed thanks to hardness meters.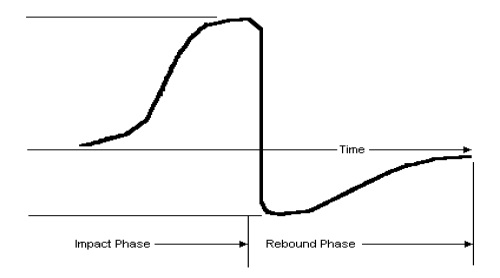 The Leeb hardness testing method was first used in 1978. It is defined by the relation of rebound speed of a smashing object to its impact speed, multiplied with 1000. The harder a material surface is, the higher is its rebound speed. For specific groups of material ( steel, aluminum…) the Leeb hardness establishes a direct relation to its hardness properties. For normal metals, curves for converting of hardness HL to other static standard hardnesses (HB, HV, HRC etc.) are deposited in this hardness meter and make it possible to convert Leeb hardness into other hardness values and display them. In short, the hardness meters are devices for technicians (input and output control, production, development and research.
Hardness meters come certified from the factory (except the PCE-DX series). A regular recalibration can also be ordered witch includes a laboratory calibration and and ISO certificate. You will find a variety of accessories, test equipment and adaptors, available on the web. Call us if you have any questions regarding our hardness meters:

UK customers +44(0) 23 809 870 30 /

US customers (561) 320-9162.